The Michigan Construction Hall of Fame welcomed four new inductees during a formal ceremony held at Ferris State University on Thursday, October 28, 2021.
Selection for the Michigan Construction Hall of Fame is based on nominees' technical, managerial and leadership achievements within construction and related industries, as well as service to the profession and community.
The Michigan Construction Hall of Fame is located in Ferris' Granger Center for Construction and HVACR on the Big Rapids campus and serves as a permanent site to recognize leaders of the Michigan construction industry and their achievements.
Rex Bell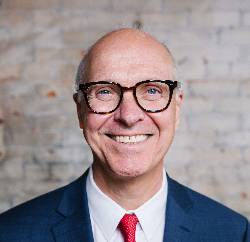 Rex Bell's interest in construction and design began in high school in Peru, Indiana. In the early 1970's, the industrial arts classes of wood shop, metal shop, and drafting still existed and a class focused on residential design was added that sparked Rex's interest.
Drawing upon that interest, he decided to attend Purdue University, studied civil engineering, and majored in building construction and contracting. In preparation for graduation, Rex interviewed with two different construction companies: Miller-Davis and Rieth-Riley. A trip to Battle Creek, Michigan exposed Rex and his wife, Denise, to Miller-Davis – the company's construction trailers were all over the city. Rex promptly called Miller-Davis Company and accepted their job offer as a project engineer.
He began working in the field for the company's Chicago and Indiana-based offices, assisting superintendents, checking shop drawings, working on agreements, and purchasing. He found his time spent in the field to be extremely valuable in addition to his formal education at Purdue.
In 1984, Miller-Davis Company landed its largest project at that time in downtown Battle Creek, Michigan. The project was developing the corporate headquarters of Kellogg Corporation. The project required a critical path method schedule and Rex was the only company employee who knew how to use the software, so he was assigned to the main office to help with the schedule.
Working as a project engineer on the Kellogg project eventually led to other projects in the Kalamazoo area for Rex. He soon moved to the estimating department, became Chief Estimator in 1985, and Vice President of Estimating in 1992. The experiences in different departments, geographic locations and in the field prepared Rex to undertake the role of President in 1996.
While the company at one time had an ESOP (Employee Stock Ownership Plan), one of Rex's first major decisions as President was to buy back those shares and return the company to a privately-held organization owned by a limited number of employees. Everyone who is an owner in the company is actively involved in its day-to-day operations and, with multiple generations working at the company, it has the feel of being a family-owned company.
44 years later, Rex is still with Miller-Davis - 25 of those spent as President. What has retained his loyalty to Miller-Davis is the culture that existed when he joined the company and has continued today under his tutelage. Miller-Davis is a small/medium-sized company, structured to compete with larger companies. They offer the same services, identical quality of people, but they operate with fewer employees than their larger competitors. The mentoring Rex received from superintendents and its prior President (Mr. Herbert Berg) prepared him for his role as President.
Berg encouraged him to get involved with AGC Michigan where Rex ultimately served on its Board and as its President. It was during this time that AGC Michigan merged with AGC Detroit to better serve Michigan contractors. He continues to remain actively engaged with AGC at this time.
While the industry has trended toward specialty contractors in the different disciplines, Miller-Davis still self-performs concrete, carpentry, and steel work. Rex believes this makes them a better construction manager with the aim of 50% of their work in construction management and 50% in general contracting. Essentially, the type of work they complete and/or manage is identical, but how they deliver the work has evolved as the need for construction management changes.
Rex is proud of the fact that Miller-Davis has clients for whom they have worked for over 80 and 90 years. He attributes this to Miller-Davis' long-term perspective regarding treating people well in both personal and professional relationships.
The Miller-Davis Foundation was established under Rex's leadership. Its focus is on education, the arts, the environment, wholesome recreational opportunities, disadvantaged persons, and other charitable activities. Through the Foundation, Miller-Davis has endowed several educational scholarships including Kalamazoo College, Kalamazoo Valley Community College, and the Kalamazoo Area Regional Educational Service Agency.
Rex gives back to the community by serving as a member of the Kalamazoo Rotary Club, the Kalamazoo Communities in Schools Board, the Kalamazoo Regional Education Service Agency Foundation, the Western Michigan University Construction Industry Advisory Board, as a trustee on the VanDalson Foundation, and he is very active in his church.
Rex also served as an adjunct instructor at Western Michigan University teaching Estimating and Advanced Estimating. He used the same textbook he had at Purdue.
Rex acknowledges that his role as President has consumed much of his time and his success would not have been possible without Denise, his wife of 47 years. Their daughter, Cile, has two sons, one of whom, Rex proudly reports is interning with Miller-Davis.
Don Leidal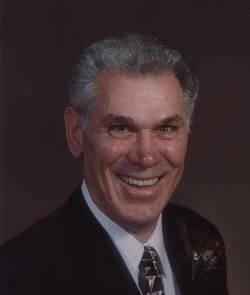 Don Leidal was born in Detroit on July 16, 1931. His family's involvement within the masonry industry commenced when his father and uncles launched a masonry block production company in the 1920's and 30's. At the age of 14, Don labored for his uncle's residential masonry company, and at 16, became an apprentice bricklayer. This wasn't the formal apprenticeship program the industry knows today, but the 'old school' approach of learning and applying skills taught by an established tradesman.
Don worked for three other contractors to gain commercial experience prior to starting his own company in 1957. The new company, Don Leidal Mason Contractors began with two employees. Don's wife, Sue, ran the office while Don managed the field. They focused on brick fronts for garages, chimneys and chimney extensions. The business was run out of their house, with the backyard serving as the company's "yard" for materials, vehicles, and equipment.
After a few years of expanding both his company and his family, Don brought his sister's husband, Jack Hart into the business, forming Leidal & Hart Mason Contractors. At that point, they were completing 10-12 brick fronts and garages in a day and 2-3 fireplaces a week, further reinforcing their company's reputation. Don wanted to grow. To expand into the commercial market, they joined the union, enabling them to grow the company's workforce through apprenticeships and new talent.
In the 1960's Leidal & Hart expanded into the industrial construction market. In the 70's this growth demanded a larger business location. Don constructed the original Leidal & Hart building on the I-96 service drive in Livonia. The building was distinctive with its glazed blue brick façade. Don's motto, "Masonry Laid to Last by Master Craftsmen," was placed on the building for all to see. It epitomized Don's belief in himself and his team.
In the 1980's the business continued to grow, taking on larger commercial and industrial projects, including the Bell River Power Plant. This was Don's largest project at that time and Don decided to step away from the field operations to focus on company growth.
In the 1990's Leidal & Hart entered into the K-12 and higher education building market. They also developed company-owned rental properties. Ironically, one of these buildings became the home of the Masonry Institute. Another of these properties was the Livonia Civic Center which was Don's prized achievement.
Brad Leidal, Don's son, recalls they always talked about work at the dinner table. Saturdays were devoted to 'checking jobs' by driving through industrial subdivisions where buildings were being constructed. This included visits to Leidal & Hart projects and checking if competitors were utilizing new innovative approaches. Don insisted that their company projects met his expectations, and that things were done 'just right'.
Don strongly believed that to retain a good workforce, you needed to offer a good pension and good healthcare. Reinforcing this belief, he served as a trustee for masonry industry funds including the Bricklayers Apprenticeship School and the Bricklayers Pension Trust Fund.
Don's goal was to provide careers, not just jobs and he was very successful in that endeavor. Leidal & Hart's general superintendent, foremen, estimators, office manager, and staff were treated like family and often stayed 20+ years. Not only did they remain, but many also brought their own family into the company, making it multi-generational.
Don's passion for the masonry industry led him to serve multiple terms as President of the Mason Contractors Association. He felt very strongly about giving back to the industry that had provided for him so well.
In 2001, a year after he retired, Don was awarded the Mason Contractors Association Outstanding Leadership Award. In 2009, he was the third person to be awarded the Mason Contractors Association Lifetime Achievement Award for his outstanding contributions to the masonry industry. The Don Leidal Scholarship fund was established in 2021 by the Masonry Institute of Michigan to honor his legacy.
Don's vision laid the foundation for the company's continued expansion. Today, Leidal & Hart has offices in Livonia, MI; South Bend, IN; and Columbus, OH.
Two of Don's children followed him into the masonry industry. His daughter Beth and her husband Dan formed Zimmerman Masonry. His youngest son, Brad followed him to Leidal & Hart. His eldest son, Bruce, found his interest in the IT sector.
While several masonry company owners served as mentors to Don, his two greatest mentors were his Uncle John, who launched him into the masonry industry and his wife, Sue. Sue was his biggest supporter, not only helping to grow the company in the early days, but continued as his sounding board as the company expanded.
Bruce Lowing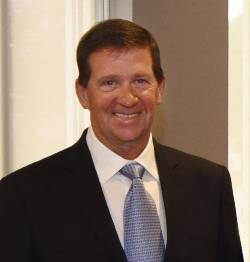 Bruce Lowing knew from early boyhood that he wanted a career "building things". Beginning with his first college internship onward, he chose to focus his entire career with just one company, Hardman Construction. Bruce was raised in Jenison, Michigan. His father and grandfather worked for Michigan Consolidated Gas. Most of his father's time was spent working in the Upper Peninsula installing new gas mains, enabling Bruce to spend his summers with his father watching the construction.
A Boy Scout Explorer program focused on careers provided Bruce with a good look into civil engineering - increasing his fascination with construction. However, summer work for a general contractor in Grand Rapids confirmed that he wanted to be more than a laborer. He wanted to manage the work.
A trip to Houghton, Michigan with his father confirmed that Michigan Technological University would combine Bruce's love of the outdoors with the study of civil engineering. An internship posting on the Associated General Contractors' bulletin board led to an opportunity working for Al Hardman in Ludington, Michigan. In 1979 Al began his own firm, Hardman Construction and Bruce continued to work for him during breaks from school.
Upon graduation, Bruce became employee number 11 at Hardman Construction. While he could have chosen to work for any heavy civil engineering company in the country, he chose Hardman Construction because of his belief that he was more than a number and hoped to become a company owner someday.
The company typically had 3-4 jobs going on at once. As a beginning project engineer, he focused on sheet piling and big excavation work. Bruce followed the jobs in local and in remote locations. He would perform whatever role was required – engineer, foreman, surveyor, superintendent, operator, etc.- to get the job done.
After several years in the field, he learned and applied the fundamentals of estimating. He combined living on the jobsite with estimating new tasks as well. Based on the size of the company, Bruce estimated projects and if successful, became the project manager for the job. This dual management role process remained the way the company was run throughout Bruce's career. Even as the company grew and Bruce rose to become president, he was still involved in estimating and managing projects while on the road. Typically, he drove approximately 50,000 miles a year to visit job sites. This is exactly what Bruce wanted - avoiding being tied to an office all the time.
Hardman Construction's projects began with a focus on pilings, coffer dams, and excavations. Typically, the jobs involved water and buttressing existing buildings. As the company grew, they limited traditional excavation work to further develop the geotechnical side of construction - auger cast piling, earth anchors, and complex earth retention. This technology, coupled with local Michigan geology knowledge, gave Hardman a competitive bidding edge.
Bruce became a part owner in 1987 while the company was growing. In 1997 he was named President. By 2005, Al Hardman was ready to retire. Bruce and two other employees purchased the company.
Bruce believes in managing through inclusion of those involved. He managed Hardman Construction using that philosophy. He further developed that style from his involvement in the heavy civil industry associations in Michigan where business is conducted via committee. He served as the president of both the Michigan Road Builders Association (MRBA) and the Associated Underground Contractors (AUC). In this role he was a strong promoter of both associations acting as one voice in the industry. This concept evolved to become the Michigan Infrastructure and Transportation Association (MITA) where he eventually served as President. Bruce is the only person who has served as President of all 3 associations. Today, Bruce is an Honorary Member of MITA, a rare award bestowed upon those individuals who have made significant contributions to the industry and the association.
Hardman Construction employee retention rate is very high – 30, 35, and even 40-year employees are commonplace. He believes this reflects how well the company treats its employees. He treats people in business in the same manner that he treats his family and friends - and attributes his success to industry involvement and treating people right. – coupled with the friendship and support of his wife, Julie. Without the friendship and support of his wife, who managed the home front including raising three children (Stephanie, Alexandra, and Nick), Bruce would not have been able to get as involved in the associations or be on the road as much as he was. He considers success as "their" career accomplishment.
His time at Michigan Tech was the foundation for the person he is today. College, for Bruce, was hard, but worth it. For that reason, he supports scholarships to give opportunities to others to attend college at both Michigan Tech and West Shore Community College.