The Michigan Construction Hall of Fame welcomed four new inductees during a formal ceremony held at Ferris State University on Thursday, October 25, 2018.
Selection for the Michigan Construction Hall of Fame is based on nominees' technical, managerial and leadership achievements within construction and related industries, as well as service to the profession and community.
The Michigan Construction Hall of Fame is located in Ferris' Granger Center for Construction and HVACR on the Big Rapids campus and serves as a permanent site to recognize leaders of the Michigan construction industry and their achievements.
Joseph Aristeo

Joseph "Joe" Aristeo grew up fascinated by huge car plants, steel mills, and the large scale of everything in Detroit. He realized at a young age that "Detroit moves with a hustle and a sense of purpose. You've got to show up on time and produce." This reflects Joe's method of leading Aristeo Construction.
He learned about the construction business, including how tradespeople think. "They take great pride in what they do. They have to produce quality work and respect those they work with."
The first of his family to attend college, Joe graduated with a Bachelor of Science in Civil Engineering from the University of Michigan in 1974. His alma mater proved helpful, allowing him to interface with graduates throughout the industry.
Upon graduation, Joe accepted a position as a Field Engineer with American Natural Gas. However, the lure of the construction industry proved to be too strong. The Tishman Company was starting construction of the Renaissance Center (at that time, the largest building project in America) and looking for a project scheduler.
Working on the Renaissance project allowed Joe to meet many Ford engineers acting as owner's representatives. These contacts proved helpful when Joe decided to pursue concrete contracting work in the automotive sector.
After Joe had spent two years at Tishman, he and his father, Agostino Aristeo Sr., started a family business. After more than a decade of working together, Aristeo Construction was formed on Labor Day 1977. The company focused on concrete, where Joe saw the most opportunity. They began contracting residential projects "doing foundations and getting the job started out of the ground."
Three months into the venture, Joe's father passed away unexpectedly. Joe, age 26, and the Aristeo team – brother-in-law Jeff Wilkie, brother Augie Aristeo, and friend Gary Steinman – now shouldered the burden of the business. Mentors from Ford Motor Company and other companies encouraged Joe to make Aristeo succeed.
Aristeo's residential work expanded to include multi-residential and then small commercial. Within two years Aristeo had surpassed $1 million in sales. While the recession in 1982-83 almost wiped out Aristeo, personal sacrifice and perseverance by the founding team kept it afloat. They learned valuable lessons about surviving on less and taking advantage of opportunities when presented.
A focus on improving the customer experience, enhancing the employee experience, and expanding market sectors enabled Aristeo to become one of Michigan's largest general contractors, ranked in the nation's top five in the automotive segment and the top 10 in the manufacturing segment.
Built upon a foundation of respect, Aristeo treats employees in the field and office equally as family. This helped the company win the National and Detroit's 101 Best and Brightest Companies to Work For Awards. At Aristeo, decisions are based on what's best for the entire company. Led by Joe, the company's attitude toward safety (earning them several industry awards) exemplifies this care for their employees, for example choosing to forego certain projects or industry sectors that they believed were too dangerous. This has created a loyal workforce with multiple generations working for Aristeo.
Over the years, many have sought Joe's council. He has spent much time problem solving and brainstorming with friends and colleagues. The creation of Stenco ("Steel, Engineering, and Construction) in 1997 with his close friend, Chuni Gala, exemplifies Joe's enthusiasm to partner with other industry experts to solve a market need. Stenco is now a successful business, with annual revenues of more than $100 million.
Aristeo also diversified beyond concrete and steel. The biggest leap was entering the energy sector. While Joe was concerned with the safety implications of installing wind turbines, diligent investigation changed his mind. This market segment sustained Aristeo during the 2008 recession when all other sectors were retracting.
Joe's appreciation for his education and the opportunities it provided encouraged him to give back to the University of Michigan. He regularly meets with students, reviewing resumes, and conducting mock interviews.
While his father was the greatest influence in his life, Joe is also indebted to Bill Stickney, Art Muzzin, Fred and Bill Auch, and Bob Thompson. They have all served as mentors throughout his career. Most recently, Joe's interactions with Bob Thompson inspired him to become involved in the Thompson Foundation. Joe now leads the Board of Directors for the Public School Academies of Detroit, operating eight Detroit-based not-for-profit charter schools that serve 4,800 students.
Aristeo today is a large, successful family business thanks to the support of his mentors, the Aristeo founding family and friends, and most importantly, his wife Judy. Married 44 years, Judy has been Joe's support system. Joe is looking forward to his role as Executive Advisor, after transferring ownership of Aristeo to his daughters, Michelle and Anne.
Joseph "Joe" Aristeo grew up in Detroit, in awe of the city's scale, its automotive facilities, and the pride and work ethic of its tradespeople. In 1977, Joe and his father, Agostino Aristeo Sr., founded Aristeo Construction with a $10,000 loan and a vision to become the industry's preferred construction supplier.
Joe lived up to his father's blueprint for success-"work hard, be honest, be safe, respect people, and do the work right." He led the Aristeo team for its first forty years, expanding its services and markets to make it one of Michigan's largest general contractors. Throughout this period, he has provided guidance to many within the construction industry, as well as through his service to the University of Michigan, the Thompson Foundation, and Public School Academies of Detroit.
Patrick Barney

Patrick "Pat" Barney's exposure to the construction jobsite began at age 5, accompanying his father and running to the store to buy coffee for the workers. J.J. Barney Construction, started by his grandfather, Joseph James Barney, was initially a general contractor building projects in and around metro Detroit.
Raised in Royal Oak and Troy or "middle America," Pat was surrounded by people with hard work expectations – go to work early and come home late at night. He observed this work ethic in his grandfather, father, and two uncles—all of whom worked for the family business.
Observing the efforts of his family in the business initially deterred Pat from joining the business. "I didn't know I had what it takes . . . I avoided it because I recognized how hard the work was." However, he did not stray far from construction, moving to Traverse City to sell construction equipment. After a few years, a desire to return home combined with the realization that he liked building things, triggered a conversation with his uncle to "try out the family business." They placed a shovel in his hand to learn the business from the "ground up". Within a few hours, he knew this was what he was supposed to be doing.
All of Pat's construction training took place on the job, from concrete laborer, to foreman, to superintendent, to estimator. Seeing all the facets of the business taught Pat to understand how people think, what they look for, and how they behave. He was lucky to spend several years working alongside of his grandfather who taught him to be a man of his word—"just say what you're going to do and do it to the best of your ability. This industry is about reputation—whether it is the company's reputation or an individual's, so how you conduct yourself on the job is critical"
His grandfather, father, and uncles all served as business mentors to Pat. They are who he attributes much of his business success. With their guidance, Pat began buying into the company, increasing his ownership with each family member's retirement.
Because of the amount of time spent together, the company culture at J.J. Barney Construction is one of family. The average employee's tenure at the company is 25 years. As the company's Owner, President, and Chief Estimator, Pat believes he can rely on his employees in the same way that he can his own family members. As they once assured him, "we can build whatever you can bid." In the early 2000's, Pat recognized that his crew was aging and unable to produce as quickly as required by roadwork project scheduling, so he transitioned the company from primarily a roadwork and bridgework contractor to entering into the building trades.
Light commercial construction evolved into what has become a specialty of J.J. Barney Construction— electrical substations for power companies, wind farms, solar farms, and battery storage. This specialty has expanded to projects all over the country.
Despite this expansion into other markets, the Great Recession challenged J.J. Barney Construction. Sixteen months of consecutive losses were mitigated by the arrival of the company's controller, Tammie Daniels, who opened Pat's eyes to hard accounting facts. Pat is indebted to Tammie and Dave Phillips, with whom Pat has worked for over 25 years, plus Kelly Boose, who is Pat's brother-in-law and Operations Director, for helping the company through the Great Recession.
However, the most significant impact on Pat's success has been his wife of 41 years, Keri. Through the myriad ups and downs of the construction industry, she has always been there for him.
The company culture of family and giving back permeates into the charities supported by both the company and Pat himself. Monetary donations, construction guidance, and volunteer labor are all manners that the company uses to get involved with the community. His favorite charity interaction is the Power Company Kids Club in Pontiac that helps at-risk, inner-city children receive leadership training and mentorship.
The mentorship that Pat himself received throughout his career gave him faith in his choices, allowing him and the company to mature and flourish.
J.J. Barney Construction continues to be successful, still working quite often on just a handshake. To this day, the J.J. Barney Construction stamp can still be seen on sidewalks throughout Detroit. The company is now just a 7-minute drive from Pat's home allowing him to keep a close eye on the business. With a passion for the company and its continued success, Pat believes he has the drive to continue another 10-12 years as the company transitions into its fourth generation of Barneys—Pat's two sons, Josh and Spencer. Like their father, they initially pursued other interests before eventually entering into the family business. This has proved to be the most satisfying highlight of Pat's career.
Patrick Barney's family exemplified the hard work ethic in construction. Concerned he may not have what it takes, he initially went to work selling construction equipment. However, realizing that he liked building things, he changed is mind and joined the family business, J.J. Barney Construction, Inc. In Detroit. His construction education was learning on the job from his grandfather, father, and uncles and focused on the importance of being a man of his word.
Patrick expanded the civil company into light commercial; nationwide construction of electrical substations, and performing as a full-service civil contractor. J.J. Barney Construction, Inc. continues its success today, transitioning into its fourth generation of family ownership. Its family culture encompasses the charities supported by the company and Patrick.
John and Dan Huizinga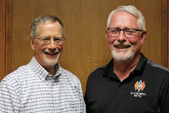 John and Dan Huizinga were involved in Allied Mechanical Services' (AMS) story from a young age. Growing up, they accompanied their father to work and helped him with jobs ranging from mowing the lawn to working in the back shop.
It became apparent early on that the brothers had differing interests and abilities. John completed one semester at Calvin College before he realized college was not going to bring him the satisfaction he felt when he worked with his hands and his head. He approached his dad and told him that he wanted to quit college to come work as a plumber and pipefitter at AMS. His father, who was president of the company at the time, told him, "You know I'll never fire you, but you'll wish I had." At that point, John recognized that he had to earn his own way and work hard, whether he was the boss's son or not.
Dan had an aptitude and interest in working with numbers, especially accounting. Learning this, his father went to the company's accountant, asked for the company's accounting books, and then handed them to Dan and said, "Here, take a look at these books." Dan went on to graduate from Western Michigan University with a BBA in Accounting, entered the field of public accounting, and became a CPA.
For a many years, each of the young men gained experience in their respective fields. In the 1980's the economic recession hit hard. The Detroit branch experienced dishonesty and fraud in their management which caused AMS to begin to fail. Their father had previously retired and this dire situation forced him out of retirement to try and resurrect the company he had built. Shortly after, Dan got a call from his father saying that they needed his help. Although his father told him not to take the opportunity, because he would be leaving a great job, Dan knew that his family needed him. Dan threw himself into successfully turning the company around by quickly shedding nonperforming operations and by beginning the rebuilding process. Much of the rebuilding process centered around the financials and Dan was hugely instrumental.
When their father retired for the second time, John and Dan realized that the blending of their financial and construction knowledge was unique in the industry. They determined that, operationally, John would run the labor and trade side of the company while Dan handled the financial side. They both relied upon the expertise of their long-term employees to help navigate challenging business situations. Their faith and trust in each other was key and helped keep lines of communication continuously open. They both agree they never had a "knock down, drag them out argument" in all their years working together.
They built upon the strength and reputation of the company, making sure they hired employees with similar work ethics and philosophies. They promoted from within whenever possible. This resulted in many employees with long tenure and experience that could attacking issues through different perspectives. The two brothers expanded the business into other mechanical-related industries by utilizing their broad working knowledge and by purchasing existing companies. Once purchased, they assured themselves that the new management understood the AMS philosophy and then delegated responsibilities for daily operations to them with full trust.
They created a company culture of always doing the right thing, focusing on fairness, and serving the client with the best possible solutions, which led to repeat business. They also followed a business practice that the subsidiaries had to bid the job like everyone else and would only win the business it if they were competitive.
John and Dan's continual investment in new state-of-the-art equipment brought improvements in productivity. Newer equipment increased the ability to complete more prefabrication, raising their performance to among the highest rates in the industry. Prefabrication has allowed AMS to complete projects in a safer and more evenly balanced manner. They have even started doing prefabrication work for out-of-state contractors.
John and Dan receive some of their greatest business satisfaction by giving young people an opportunity, watching them complete an apprenticeship or internship, and then work their way up the ladder to be leaders in their fields.
Both John and Dan are very involved with community service. Much of Dan's work has an accounting bias – treasurer in his church, treasurer in an industry association, and treasurer for a school board. John has both led and participated in many mission trips within the United States and abroad. They live their day-to-day lives with the mindset of serving others in need because they have been blessed.
They attribute their success to faith and trust in each other, God who carried them through hard times, their wives who offered unending support, and their employees.
Multiple sons, son-in-laws, and brother-in-laws all work for the company, making it truly a family business. Both are looking forward to seeing the next generation successfully take over the company and spending time with their grandchildren.
John and Dan Huizinga were exposed to Allied Mechanical Services (AMS) at a young age due to their father's ownership. The brothers quickly realized their differing interests. John enjoyed working with his hands more than attending college and started working as a plumber/pipefitter while Dan had an aptitude for accounting and became a CPA.
When called upon by their father to resuscitate the business, they realized the blending of their knowledge was unique. Operationally, John managed the labor and trade side of AMS while Dan managed the financial side. They focused on the company's strengths, attacking issues from multiple perspectives, investing in prefabrication, and sticking to their values. They attribute their success to their trust in one another and their faith.