Chris Anton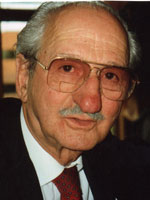 Chris Anton was one of seven children from turn of the century Greek immigrants. He grew up in a poor farming family during the Depression and left Muskegon Heights High School before graduation to get a job to help support his parents and siblings. He served in the United States Army during World War II.
He returned to Michigan in 1948 and entered the electrical construction industry. During the 1950s, Chris worked on the project to electrically connect the Lower and Upper Peninsula's of Michigan with submarine cable across the Mackinaw Straits. In 1961, he was one of the original founders of Newkirk Electric with several other investors – whom he bought out in 1973.
Over the next 40 years, Chris grew the company into one of the largest design-build electrical contractors in the United States. The company's focus in the early years was on building and modifying substations for Consumers Energy. The Ludington Pumped Storage project in 1968 was one of Newkirk's largest, early projects; and at the time, the largest civil construction project of its kind in the world. Other key projects included the D.E. Karn power plant in Bay City in 1972 and the J.H. Campbell power plant in 1977.
Looking to expand on capabilities, he founded Theka Associates in 1980, an engineering subsidiary of Newkirk Electric. The two companies work as strategic partners to offer design-build solutions to their customers. They also expanded into renewable energy, designing and building landfill generation projects, industrial co-generation systems, biomass power and solar power. As wireless technology emerged, so did Newkirk as a leader to help build the wireless communications infrastructure for most of the major wireless carriers across the United States.
Chris was a strong supporter of the Muskegon County Community Foundation both by endowing the organization and establishing the Anton Family Fund. His involvement carried over to the Muskegon Habitat for Humanity and the Muskegon Civic Theater/Frauenthal Center. Although he was proud to give back to the community, his church, the Annunciation Greek Orthodox Church, brought him the greatest pride. He was awarded an Orthodox honorary medal by the bishop of the church. He also received a "key" to the church in 2000.
Chris had a keen understanding that a company had to innovate to stay ahead of its competition in order to survive. And while he was a natural-born leader, innovator and a forward-thinker in the electrical industry, he never forgot about his family and the community he lived in.
Dr. Kenneth Bensen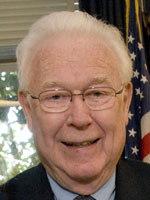 Kenneth Bensen was born in Thief River Falls, Minn., in 1937. He was raised in Iowa, which is where he discovered his passion for helping people. After graduating from high school, he earned a Bachelor of Arts in education from Bethel College. In 1965, he earned a Master of Divinity degree from North Park Theological Seminary and in 1980 a Doctor of Ministry degree from McCormick Theological Seminary in Chicago, Ill.
In his more than 40 years as a minister, he has served five churches in Arizona, Illinois and Michigan. Twenty years into his ministry he took a job with a Chicago area Habitat for Humanity affiliate – which changed his life.
Throughout his time involved in Habitat for Humanity, he twice directed Habitat for Humanity Jimmy Carter Work Projects, developed national Habitat State Support Organization policy and helped to lead an international movement that has sparked social change in the utmost positive way – helping people help themselves by building affordable homes that have provided home ownership to hundreds of thousands across the globe. His greatest accomplishment has been developing Habitat for Humanity Michigan from nothing, and to date, to help spur construction of more than 3,500 homes, impacting more than 14,000 lives, which is a true testament to the power of volunteers.
Ken was a part of developing the Habitat Prison Build Program with the Michigan Department of Corrections, developing a public/private partnership between Habitat for Humanity Michigan and Michigan State Housing Development Authority and helped to raise more than $35 million for Habitat affiliates across the state. Ken also helped lead the creation of the "Living Michigan Coalition," a group of non-profit and for-profit organizations formed to encourage the State to fund a Michigan Housing and Community Development Fund.
Beyond Michigan, he has helped to lead an international movement that has sparked social change in the utmost positive way – helping people help themselves by building affordable homes that have provided home ownership to hundreds of thousands across the globe. Ken has worked closely with Habitat for Humanity organizations in Armenia, Philippines, Brazil, Romania and Thailand. He helped develop the yearly 40 house Lenten Build in Mexico and the yearly 37 House Build in Armenia. In addition to his CEO role with Habitat for Humanity of Michigan, he has served as the Ecumenical Officer for Habitat for Humanity International. In this role he represented Habitat to the World Council of Churches, the National Council of Churches and Christian Churches Together.
Ken is the first to tell you that without the thousands of statewide volunteers and dedicated staff, Habitat for Humanity would not be what it is today in Michigan.
Larry Erhardt Sr.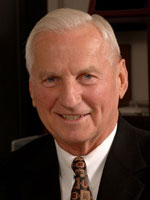 Larry Erhardt Sr. was born and raised in Grand Rapids. He attended Catholic Central High School, and after graduating he attended Aquinas College for two years studying pre-engineering. He continued his studies at the University of Detroit graduating in 1954 Magna Cum Laude in civil engineering.
Larry enjoyed working in the field and being outdoors. While aspiring to be a job superintendent, he gained field experience as a layout engineer for a Detroit general contractor for several years.
He moved back to Grand Rapids in 1959 and after three years at Osterink and wanting to get back into a field operations role, he decided to start his own company in 1962.
For the next 47 years, Larry's company was instrumental in completing some of the most difficult and significant projects in Grand Rapids, including: Amway Grand Plaza Hotel, Van Andel Arena, Van Andel Institute and DeVos Place Convention Center. In 1997, Erhardt Construction received a National Excellence in Construction Award of Merit for the renovation of Plaza Towers in Grand Rapids from National Associated Builders and Contractors. Other awards include 13 Awards of Excellence from ABC/Western Michigan Chapter for other various construction projects; Safety Training and Education Program (STEP) Award in 2000 and 2001 they received the at the Gold Level, in 1999 at the Platinum Level and in 1998 at the Silver Level from ABC/Western Michigan Chapter; the 1997 Design Award from Precast/Prestressed Concrete Institute for the Plaza Towers renovation; the 1993 American Society of Civil Engineers Outstanding Civil Engineering Achievement Award for the Lake Michigan Filtration Plant, Low Lift Pump Station; and the 1998 Design Award from the American Institute of Contractors for the Louis Campau Parking Structure.
Although retired, Larry continues to be involved in the construction industry of west Michigan. He is greatly respected by his peers and has established the trust and confidence of clients who make up the best of the best in west Michigan. The list of significant projects successfully completed by Erhardt Construction is his legacy to his company and the community.
Larry's leadership capabilities and intellectual depth have been sought by numerous industry, social, religious and charitable organizations. Leadership roles include: board of directors, Right Place; past president, ABC Western Michigan chapter; and past president, Builders Exchange of Grand Rapids. He also served as board chairman for Villa Elizabeth Nursing Home and St. John's Home in Grand Rapids.
To many in the industry he has been a mentor and a source of advice, wisdom and knowledge. As a role model for future constructors, he offers some of the best examples of character, honor and integrity.
C. Edwin Haltenhoff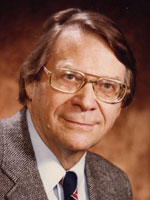 Charles Edwin Haltenhoff was born in Brooklyn, New York, Oct. 19, 1923. He graduated from Brooklyn Technical High School in 1942. After serving in World War II he graduated from Lehigh University in 1951 with a Bachelor of Science in civil engineering.
His first job after Lehigh was at Merritt Chapman & Scott Corporation, which brought him to Michigan to work on the Mackinac Bridge. In 1954 he was appointed project engineer for all on-site construction engineering pertaining to the foundation for the Mackinac Bridge. In 1956 he joined the Mackinac Bridge Authority as chief engineer and remained general manager.
In 1965 Ed joined Elzinga & Volkers, Inc. as general manager. Peter Elzinga, founder of the company, was looking for a leader who could guide and mentor Paul Elzinga and his brother Marshall in the leadership and management of the general contracting company. While at Elzinga & Volkers, he was a leader that ascended to president and chairman.
In 1968 Ed, along with three registered professionals, founded a professional architectural and engineering corporation now known as GMB Architect and Engineers. It was also during this time that Ed began the development of the CM project delivery system. Ed soon became well known as the foremost author and authority on construction management in the Midwest. While he was president of Elzinga & Volkers, he presented seminars on CM at the University of Wisconsin and began to lecture at Michigan Technological University in Houghton, Mich. In 1978 he authored his first draft of the book "The Construction Management Project Delivery System," which was the beginning of CM becoming an industry standard.
In 1980, he joined the Civil Engineering department at Michigan Technological University in Houghton, Mich., where he received the university's Distinguished Teacher Award in 1990. He was awarded the Outstanding Teacher Award four times and was designated a Distinguished Lecturer in 1992. His final award at Michigan Tech was the Alumni Outstanding service award in 1995. While at Michigan Tech, he published articles on construction management as well as wrote and published a construction management textbook.
Ed was active in his church and served as a board member and president of the West Ottawa Board of Education in Holland, as well as industry and educator organizations. He was a member and Fellow in the American Society of Civil Engineers, National Society of Professional Engineers and the Construction Management Association of America.