Donald Anderson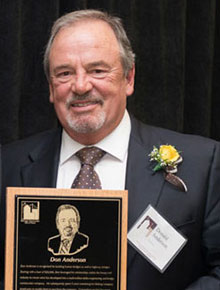 After graduating from Michigan Technological University with a degree in Civil Engineering, Donald Anderson received an offer from the Michigan State Highway Department to work as a bridge field engineer in the highway industry. His first assignment was on the Davison I-75 highway interchange near Detroit.
He worked with the Michigan Department of Transportation for two years, serving as the head of the survey crew, inspection and eventually, lead inspector on the project. Following, Anderson went to work at Midwest Bridge from 1968-76, where he worked in the field as an engineer and assistant for the project superintendent. He then transferred to the company's main office in Williamston, Michigan, and began working in the signage industry. In this role, Anderson often traveled to numerous states for bidding, primarily in the Midwest.
He grew tired of the travel and successfully landed a position with Seaway, where he returned to working in the bridge industry. One of his major projects was a bridge across the Muskegon River on US-131, which was originally bid as a structural steel bridge, but under Anderson's suggestion, changed to concrete segmental offering excellent results.
As construction started declining in Michigan, Seaway began its expansion into Florida. Anderson was initially responsible for maintaining operations in the state of Michigan, but the company eventually opted to move its entire operations to Florida. After deciding to stay in Michigan, Anderson was in a perfect position to pursue his long-time desire of building his own business with a colleague from Seaway, Gerrit Terlaan. In 1986, the Anlaan Corporation was founded.
In the beginning phases, a friend and mentor, Al Hardman of Hardman Construction, allowed Anderson and Terlaan to operate under his company's name and rented out his company's machinery to them. After about a year, Anlaan was up and running, with its initial job in Shepherd, Michigan, addressing damage caused by flooding. The project, initially quoted at $40,000, doubled, and Anlaan was able to put its first $40,000 in the bank.
Over the years, Anlaan grew and became competitive in the bridge industry. Anderson and Terlaan eventually sold the company to three long-standing employees – two of whom worked with them from the start of their careers and a third who had much industry experience before joining Anlaan.
Anderson lives in Grand Haven with his wife, and is the father of three adult children, one of whom still works in the Anlaan business.
Michael Emmenecker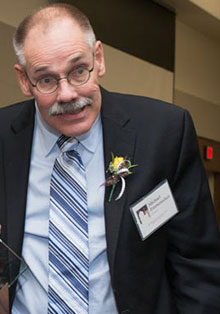 Michael Emmenecker had construction in his heart and mind the day he was born. A "tinkerer" while growing up, he dedicated his early years and education to making construction his ambition and lifelong pursuit.
Even before graduating college with a degree in Civil Engineering from Michigan State, Emmenecker had begun professional work in the construction industry with Miller Davis Builders in Saginaw, Michigan, during the summers of 1972 and 1973. Upon graduation, he went to work with the Federal Highway Administration, a job that took him to California, Colorado, Minnesota and Massachusetts. In 1979, he returned to Saginaw to work for J.R. Heineman & Sons, a large general contracting company for which his father, Thomas G. Emmenecker, was serving as president.
Starting as an estimator and completing a variety of projects, including major industrial work at automotive and other industrial plants, Emmenecker later became involved in commercial and architectural jobs. Emmenecker became vice president of Heineman in 1989 and advanced to president in 1995. Under his leadership, the organization quadrupled in size and doubled in volume.
During his rise in leadership roles at Heineman, Emmenecker also served as general superintendent and managed a field of 100 tradesmen. Contractors and union leaders on both sides of the collective bargaining table gave him their respect and admiration for the way he handled himself in his role as lead negotiator for numerous collective bargaining agreements with the building trades. His goal was always to protect the interests of the contractors he represented, striving to achieve an agreement that would benefit both sides as well as the owners whom both the contractors and the building trades serve. The industry benefited from his approach of building relationships and promoting cooperation before conflict.
Emmenecker's focus on relationships and his "roll up your sleeves and get it done approach" helped him achieve success as a businessman, negotiator and trade organization leader – but perhaps most importantly of all, it helped others achieve success, as well.
Mick McGraw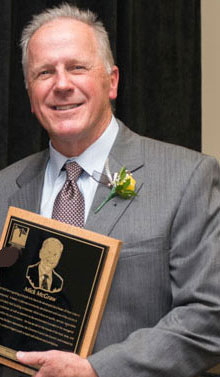 Mick McGraw, president and CEO of Eastbrook Homes, built a small West Michigan business into one of the country's largest privately held home building companies. In 2015, Builders Magazine ranked it the 110th-largest home builder in the country.
McGraw earned a Business Administration degree from Olivet Nazarene University in 1972. He served as vice president of Union Bank & Trust from 1973-78. In 1979, he began work for Eastbrook Development Company and Eastbrook Homes, becoming president in 1986 and CEO in 1994. In his 30-year tenure, Eastbrook has built approximately 10,000 residential homes and developed hundreds of communities, with a strong focus on environmental stewardship.
His leadership and innovative land and community planning techniques spurred the company's growth in Grand Rapids, Michigan, and beyond. Today, Eastbrook's service areas extend to the Lake Michigan shoreline, and include Lansing, Michigan, and Auburn, Alabama. McGraw's ability to evaluate the market and work with community leaders to respond to market forces has maintained the company's leadership position. Eastbrook continues to develop entire communities, from acquisition and design of raw land to end-consumer marketing.
Under McGraw's leadership, Eastbrook developed Bailey's Grove, the largest master planned community in West Michigan. It includes nearly 1,000 homes and condominiums, more than 300 apartments, an elder care facility, a medical facility, a daycare center, retail areas, and an elementary school. Other communities in development include 725-home Lowing Woods in Georgetown Township and 525-home Hathaway Lakes in Crockery Township. McGraw has been recognized repeatedly for conscientious community development, working to remediate and restore abandoned or environmentally challenging sites in Michigan, such as Macatawa Legends in Holland, Prairie Winds in Zeeland, Placid Waters in Allendale, and Tannery Bay on White Lake in Montague – all of which are now thriving communities.
McGraw and his wife Lucy reside in Kentwood, Michigan. McGraw's two sons, Michael and Josh, are actively involved in Eastbrook Homes operations as the company enters its 49th year.
Lynn Wolgast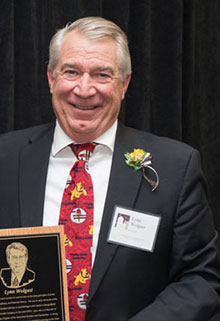 Lynn Wolgast grew up building brick forts with his five brothers and sisters in their Hemlock, Michigan backyard. Two years before Wolgast's birth, his father founded G.A. Wolgast Masonry, serving as a mason contractor. He often brought the children two-by-four boards from which nails needed to be pounded out, and took them along when he traveled to pick up construction materials.
In high school, Wolgast and his siblings helped their father at work sites. Wolgast then studied data processing at Ferris State University, never considering a career in construction. After a time, he realized that he was in the wrong program, and went on to earn a Business degree.
While he was in school, his family relocated to Saginaw, Michigan, where he joined them after college. In 1972, his father restructured the company into Wolgast Construction Inc., giving Lynn and his brother, Pat, a chance to buy in. Lynn assumed management responsibilities for the business and office under mentorship of David Satchell, and his father and Pat directed field operations.
In 1974, the company gained approximately 90 jobs and a contract to build the Junior Achievement building in Saginaw. Thereafter, Wolgast became an advocate for J.A. of Northeast Michigan and, in 15 years, has raised over $1 million in support for it through its Golf Classic. In 1975, Wolgast made a connection with Star Manufacturing in Oklahoma City, Oklahoma, and Wolgast Construction supported Star's expansion by building its pre-engineered steel structures. Eventually hiring a designer to do preliminary drawings and outsourcing architectural and engineering work, the company generated its main revenue in design-build and became one of the first such contractors in the Saginaw market.
Wolgast Corp. eventually came to serve the restaurant industry, beginning in 1976 with work for a McDonald's franchise. The project was a success, and Wolgast Corp., under supervision of Lynn's brother Mark Wolgast, went on to complete 30 remodels for McDonald's in the next two years, followed by 9 to 15 stores each succeeding year, and ultimately completing projects for nearly 300 McDonald's franchises by 2008. Wolgast Corp. was building approximately 50 restaurants per year, including McDonald's, Bob Evans, Taco Bell and others. Wolgast structured the company into divisions with a vice president in charge of each project delivery method: Bid, Design-Build Negotiated, Construction Management and Restaurant, which created the diversification it needed to maintain success.
Wolgast has been married to his wife, Beebe, for 23 years. Between them, they have four children and seven grandchildren.