Earl H. Beckering Jr.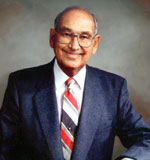 was born on December 23, 1919. He was the youngest of four children with siblings Ralph, Jim and Eleanor. After graduating from South High School in Grand Rapids, Earl continued his education at the University of Michigan in the engineering program. Later he completed Officer Candidate School in California and served as a Captain in the Engineering Corps. He oversaw construction of multiple airport runway projects and was privileged to oversee several aspects of a major remodeling project at the Taj Mahal.
Upon his return from World War Two in 1946, Earl went to work for his father as a superintendent at Beckering Construction Company, the predecessor of Pioneer Construction. In 1954 Earl's father and brother passed away, and two years later Earl took the reins of the second generation family business. In 1963, Earl created a separate entity, Pioneer Construction, as a merit-shop general contractor. The name 'Pioneer' was picked because it was the first general contracting firm in West Michigan to operate an open shop. For several years, Earl ran both Beckering Construction Company and Pioneer Construction. After surviving many challenges in the early days, including having the headquarters firebombed and relocating the business into his home to maintain operations, Earl moved Pioneer Construction into rebuilt offices at the current headquarters near Burton Street and US-131 in the spring of 1965.
From that point on, Pioneer Construction experienced continued growth and success, expanding from a $5 million a year operation to nearly $100 million a year in annual construction volume. Earl semi-retired in 1979 and continued to serve the company in an advisory capacity until 1999. From 1979 until his death, Earl was an active community leader and philanthropist including active involvement with Rotary and serving as both an Elder and Deacon for Garfield Park Reformed Church.
Although a man of many talents, Earl is most remembered professionally for his involvement with industrial relations and social change and delivering every project on time and on budget. His managerial and leadership prowess helped him navigate through this incredibly challenging time in the history of the company and industry. He believed strongly in open competition and free enterprise and fought tirelessly to ensure that West Michigan construction contracts would be awarded solely on merit, regardless of labor affiliation. He was a member of the Associated Builders and Contractors West Michigan Chapter. Earl served the association in many capacities including Chairing the Building Committee and later Chairing the Board of Directors. In 1980, ABC of Michigan recognized Earl's lifetime of accomplishment by awarding him the Richard F. Hooker 'Man of the Year' award.
Earl also received numerous project specific awards from the Associated Builders and Contractors, the American Institute of Architects and various other industry organizations for his involvement on educational construction projects for clients including Saugatuck, Fennville, and Allegan Public Schools, Creston High School, Union High School, Hope College and Calvin College, along with prominent West Michigan manufacturers such as Bissell, Steelcase, and Prince Corporation.
Most importantly, Earl was a loving husband, father and grandfather. Earl married his next-door neighbor and childhood sweetheart, Sereta Jane Morten, and together they raised six children: Jerry, Tom, David, Nancy, Marty, and Julie. Several years after Sereta's passing, Earl married Lois Eberhard with whom he enjoyed his retirement.
Earl carried on a legacy, passed down by his father, of a strong work ethic, handshake agreements, personal service, quality craftsmanship and philanthropy. In the process, he helped build a family owned and operated organization that is now thriving into the fourth generation under the leadership of Earl's grandchildren, Tim & Barbie Schowalter. He did all of this while always remembering his community and giving back of his time, talent and treasure.
Fidell Cashero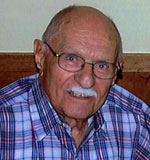 After serving in World War II, Fidell Cashero returned to the United States and began to look for employment. With only $10 in his pocket, Fidell found employment as a laborer for a local contractor, Roy Grunwell, who owned a building restoration business. After several years, Fidell worked his way up from laborer to the firm's right hand man. When Roy decided to retire in 1953, Fidell bought the company in 1953 and named the resulting company Grunwell-Cashero. His entrepreneurial spirit and love of his work inspired him to grow the business of masonry restoration when not much was known about the craft.
The buildings in the Midwest were just old enough to begin experiencing signs of aging, and Grunwell-Cashero was one of the lead companies in the Midwest to address the delicate craft of masonry restoration. Much of the first masonry restoration of many local landmarks in the Detroit area was developed and completed by Grunwell-Cashero Company. Significant restoration projects include the historic Fisher Building, Detroit Opera House and Fox Theatre in Detroit, and Greenfield Village.
Fidell is a proud World War II veteran (staff sergeant in Company A of the 142nd Infantry Regiment of the 36th Division) and most recently was awarded the Knight of the Legion of Honor medal from France. The medal is the highest honor France can bestow to an individual. He was given this medal for his contribution to France for serving in the war. While serving in World War Two, Fidell also was awarded the Bronze Start Medal, the Good Conduct Medal, the Distinguished Unit Badge, the Bronze Arrowhead, the World War Two Victory Medal and the European, African, Middle Eastern Theatre Ribbon with four Bronze Stars. Fidell says he feels very fortunate he was never wounded in battle while overseas and credits God for keeping him safe and allowing him to serve his country.
Fidell is a very religious and spiritual man, and spent much of his time and money giving back to God. He has spoken across the country in numerous churches spreading the word of his life story as an inspiration for others. He credits his faith for helping him reach where he is today.
Fidell expanded the business into Lansing, Toledo and Cleveland and instilled a sense pride in his company and his employees, which has made Grunwell-Cashero the highly respected company it is today.
David L. Hamilton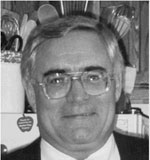 Northville native David L. Hamilton worked his way up the ladder in the construction industry with various companies, starting as a laborer and moving up to layout engineer, superintendent, general superintendent, project manager, vice president and then succeeding in becoming the president and CEO of The George W. Auch Company in Pontiac from 1994 to 2008.
Founded in 1908, The George W. Auch Company continues to operate as an employee owned, full-service construction management and general contracting firm located in Pontiac, specializing in educational, health care, municipal, and institutional construction. The Auch Company has long enjoyed an outstanding reputation in the construction industry for their professional execution of new construction, building additions and renovations.
A few of the notable projects David was involved with include the Canton City Hall, Village Theatre at Cherry Hill in Canton, Comerica Corporate Offices at One Detroit Center, Detroit's People Mover, Max M. Fisher Center for the Performing Arts, Oakland County Courthouse, Grand Blanc Public Safety building, and many others.
In positions of authority, David always promoted a philosophy that encouraged the professional growth of those around him. He provided opportunities for young project engineers, managers and superintendents to participate in industry functions and training that helped in their career advancement. He also provided career challenges to individuals and always backed it up with the support and encouragement based on his years in the industry and expertise.
David also made a priority to give back to the industry and community. He served on numerous boards and panels which included the Detroit-area Laborers Health and Welfare Fund, Oakland Community College Foundation Board, and the Eastern Michigan University College of Engineering Technology Construction Management Accreditation Committee and served as director and juror for the Construction Innovation Forum.
He also was active in addressing organizations such as the National Association of Women in Construction, University of Michigan Civil Engineering Department, Construction Association of Michigan, Oakland Community College, among others.
David's personal and professional integrity, ability as a builder, desire to teach others and help them succeed in their careers, determination to build and grow a business, and his generosity to give back to the industry and community with his time and treasure all help define him as a distinguished constructor.
Herbert A. Spence Jr., Matthew H. Spence III, Edwin A. Spence Jr.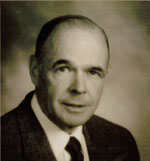 Herbert A. Spence Jr. began his distinguished career with Spence Brothers in 1945 as a part-time summer laborer in Grayling. After his graduation from University of Michigan in 1953, Herb worked full time in and on the family business until 1990.
Herb was the senior member of the third generation of the Spence office and was the estimator and project manager for hundreds of major projects throughout his 45-year career, including the $35 million Ann Arbor Wastewater Treatment Plant, the company's largest contract of his generation. He served as company president for 11 years. He was completely dedicated to whatever he was given and worked long days and nights for decades. Toward the end of his career, Herb became equally dedicated to community service as the volunteer executive director of Habitat for Humanity, which began taking root in Saginaw in the late 1980s. He tried to work both fulltime jobs for a few years, until he decided to retire early at age 61 to lead Habitat day and night for another decade. He made an incredible impact on Spence Brothers, his industry and his community, and was awarded the prestigious Spirit of Saginaw award from the Saginaw County Chamber of Commerce.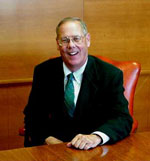 Matthew Spence III began his career at Spence Brothers in August of 1960 as an estimator and project manager and was given major project responsibilities very early in his career. He obtained and managed dozens of higher education projects including Central Michigan University's Science Building and Brooks Hall renovations, Eastern Michigan University's Music building, Saginaw Valley State University's Ryder Center and the University of Michigan's Sam Wyly Business School addition, as well as many healthcare projects throughout the state. Matt served on Spence Brothers' board of directors for 27 years, finishing his career as company president and then chairman. Matt was the most active industry representative of his generation and gave countless hours of service to improve his industry including serving as president of the Michigan Chapter of the Associated General Contractors.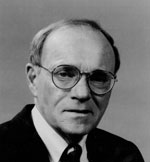 Edwin A. Spence Jr. was widely recognized throughout Michigan as one of the most knowledgeable construction field operations experts. He knew how to build and supervised some of the most challenging projects built in the state, from Ann Arbor to Sault Ste. Marie. He also is the main reason Spence Brothers has such an excellent reputation as a complex concrete structure specialist. He was general superintendent overseeing Spence Brothers field operations for decades and mentored young superintendents who carry on Spence Brothers' legacy today.
Although they had help from other dedicated members of the Spence Brothers family, over the last 35 years these three cousins were the key leaders that have made Spence Brothers one of the most respected construction companies in Michigan. They each had different strengths and completely dedicated their lives to combine those talents to ensure their family company's success and add to its distinguished reputation throughout Michigan.