H.L. 'Bud' Conrad, Jr.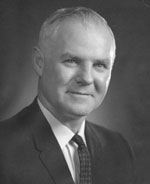 As president and CEO of The Christman Company for nearly 25 years, Bud left a legacy of creating opportunities for the next generation of construction managers. In 1964 he helped establish the Michigan AGC summer internship program. He also helped The Christman Company become a leader in pioneering the 'construction management' method of service delivery in the Michigan construction industry in the mid-to-late 1970s.
Bud served on the board of directors for Michigan National Bank, first for the Lansing area and later for the Detroit area. His calm, steady leadership assisted the institution's leaders in guiding the bank through the one of its most challenging periods in the 1970s. He also served the Associated General Contractors of America both as a Michigan chapter president and as national director.
Even with all of Bud's successes, he never forgot the true heart and soul of The Christman Company - the individuals who worked so hard to make it successful. His reputation among his employees is one that every corporate leader should strive toward. He made people proud to work at his company.
In his early years, Bud received two very important pieces of advice. His father urged him to pursue an engineering degree and The Christman Company's vice president at that time urged him to learn a construction skill through an apprenticeship. Following the course each man had suggested, he earned both an engineering degree and a bricklayer's card, which taught him a valuable lesson in seeing things from both a management and worker's perspective. This advice served him well throughout his career. 'Bud' Conrad served The Christman Company for nearly half a century, with half of that time at the helm as the company's president. Known for his sound judgment and patient leadership, honed through many years of working through the major challenges of field construction, he remained passionate not only about Christman but about the industry he loved so well.
William Hendrick, Sr.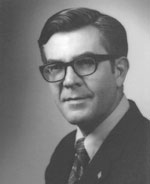 Bill Hendrick dedicated nearly his entire life to the construction industry. As president of R.C. Hendrick and Son, Inc., he continued a family tradition, building upon its founder's vision of ensuring dedication to quality, skill in performance, responsibility to the customer and integrity in all business endeavors. Today, even after retirement, he remains an active part of the business.
Bill received a Bachelor of Science degree in Civil Engineering from the University of Notre Dame in 1944 and served as both a 3rd Class Electronics Transmissions Mate and a 2nd Class Petty Officer in the United States Navy before entering the construction field. In 1990 he was also named a fellow from Saint Joseph's College in Rensselaer, Indiana.
His achievements in the construction industry include serving as president of the AGC - Michigan Chapter in 1970 and in 1993 he was chosen as chairman of the Labor Relations Committee for their Executive Division. That same year he was recognized as an honorary member of the AGC and was honored by the AGC - Michigan Chapter for his years of service to the chapter and the construction industry.
Bill has also served his community in numerous ways. He is a long-time member of the YMCA, serving on the Saginaw YMCA board of directors for 15 years. From 1985-1987 he was also the president of the Saginaw YMCA. Bill served on the board of directors for the Historical Society of Saginaw County and was the Saginaw Country Club president in 1984.
Respected by his peers and by all who know him, Bill's knowledge and fondness for construction is what allowed R.C. Hendrick & Son, Inc. to remain one of the oldest family-owned-and-operated construction companies in Michigan.