Medio J. Bacco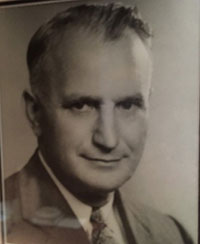 Bacco has demonstrated how perseverance, character and entrepreneurship can overcome humble beginnings and achieve success. At about 18 years of age, he began to work for a man who would become his early mentor, Gilbert Carpenter, the county engineer at the Dickinson County Road Department. Gilbert taught Bacco how to use the engineer's level and transit and the rudiments of roadwork as he worked him as a laborer and eventually helped him find work on a road project in Lower Michigan. Bacco on to develop Bacco Construction Co., and eventually Champion Gravel Co., in the Upper Peninsula. He was heavily involved in support of the road construction industry, helping establish the Michigan Road Builders Association and serving as a member from 1920-1928.
By 1945, Bacco had decided to divest himself of his companies and turn his focus to the community. He was a strong supporter of the Catholic church throughout his lifetime. Bacco served on the Iron Mountain School Board where he established a significant engineering scholarship fund, dedicated to his mentor Gilbert Carpenter, for students going to Michigan Technological University. To date, the fund has provided 120 scholarships valued at more than $1 million.
A humble entrepreneur who started with nothing and was willing to take risks, he lived the American Dream.
Patrick M. Cunningham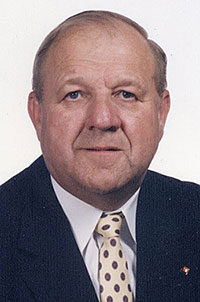 Cunningham spent more than 50 years in the construction industry with the particular focus on his company, Cunningham Construction. The construction industry was Cunningham's relaxation and avocation. His favorite project was "all of them." He built Cunningham Construction based upon working hard, being honest, paying his bills and establishing a strong, honest client base. He treated his employees as problems solvers and set an example by living to company rules. He served as the president of the Association of General Contractors Board for Michigan, in 1992, leading the association through a difficult economy while helping maintain membership and ultimately experience growth. He also served on the Michigan Laborers Pension Board for 20 years as a trustee. He was recognized for his ability to work through funding challenges to ensure that resources were available for retired laborers and their families.
Cunningham also served in multiple Catholic church leadership positions and was formally recognized for his work by the University of Detroit and the Knights of Columbus. He served on many committees, including as president of the Catholic School Board for 30 years, on the St. Mary's Church Finance Committee for 40 year, and on the Queen of the Miraculous Medal Church Building Committee for 10 years.

His crowning achievement included raising more than $1 million for the St. Mary's Church Heritage Fund I and Heritage Fund II in poor economic times.
Donald C. Templin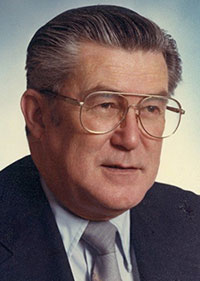 "Where he goes something blooms" is on a retirement plaque and perhaps best describes Don Templin's career. During a 42-year career, in the construction industry, he worked for companies both large and small including, Walbridge Aldinger, Eberle Smith Associates, Oakland Community College, H.F. Campbell Company, Damone Andrew Inc., and Soil Materials Engineers, Inc. He was promoted to President of H. F. Campbell and his leadership ultimately helped return the company's financial situation to profitability. In 1976, he was elected as director of the Construction Federal Credit Union, a relationship that would remain for more than 25 years.

Templin brought a common sense approach and solid judgment in addition to the ability to open new avenues of growth to the credit union.
His client relationships were based upon honesty and professionalism. He served on the board of the Construction Innovation Forum, on the board of the Construction Association of Michigan, as director of the University of Michigan Civil and Environmental Engineering Friends Association.
Templin was a registered Professional Engineer in the State of Michigan and was active in the Michigan Society of Professional Engineers specifically as a charter member of the MSPE Rouge Valley Chapter, serving one term as the MSPE vice president.
Louis C. Verrette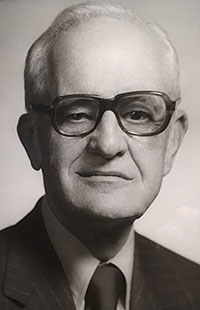 Louis Verrette served with distinction during WWII becoming one of seven principal officers for the Corps of Engineers' Engineer Board. He started Champion, Inc. in Iron Mountain and created three operating units: Construction, Mining Supply, Electric Supply and later added a National Ready Mix Concrete Business.
He was an innovator, applying new concepts to allow winter construction in the Upper Peninsula. Using new plastic products, he introduced the concept of enclosing building sites and heating the enclosures with modern steam heating systems, which allowed work to continue late into the winter season. Champion, Inc. was the first to use an enclosed ready-mix concrete batch plants on construction sites to allow them to manufacture and deliver concrete under harsh winter conditions.
Verrette had a strong relationship with industry associations and education. Verrette was a founder of the Upper Peninsula Contractors Association. His relationship with Michigan Technological University continued throughout his construction career and he served on their Board of Control.
As chair of the Board in 1964, he played a key role in Soo Tech leaving the Michigan Technological University family to become four-year stand-alone Lake Superior State College, and ultimately Lake Superior State University.
Marlin Feyen and Bob Zylstra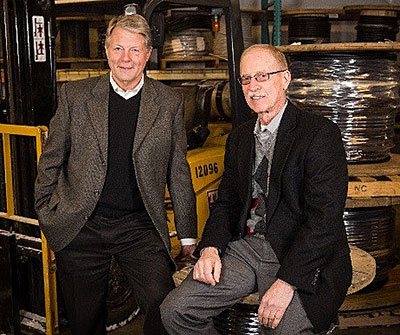 Safety, professionalism, integrity, responsiveness, and efficiency are the five core company values that Bob and Marlin believe guided their company's success. The strong desire to make a difference led to a technical and financial partnership between these two men that resulted in the creation of Feyen Zylstra - an electrical contracting firm with a global presence. Together they stressed employee teamwork, training and education; supplier partnering; and innovative processes for job efficiency, while giving back to the community.
Together, they brought several "firsts" to the Grand Rapids construction industry including initiating a company Apprenticeship Training Program approved by the Department of Labor; early development and adoption of prefabrication and mechanical/electrical coordination resulting in cleaner and more efficient jobsites; and partnering with local competition on large, complex local projects. Feyen Zylstra's corporate safety record was among the best in the industry.
Both men have served on multiple committees in Michigan that served both the construction industry and the local community. These committees included the Michigan State Electrical Administrative Board, Associated Builders and Contractors Electrical Council, ABC Legislative Group, Kent County Electrical Skill Advisory Committee, Grand Rapids Board of Zoning Appeals, Grand Rapids Planning Commission, Kent County Solid Waste Planning; and the Child and Family Resource Center.