Working at Ferris & KCAD

Ferris and KCAD were founded to move people and ideas forward at the speed of industry. This continues today with our focus on hands-on instruction and real-world experience. We align ourselves with our core values of collaboration, diversity, ethical community, excellence, and learning and opportunity, all to help our students build more than just a class schedule, but a career. Start exploring your opportunities now.

Living in West Michigan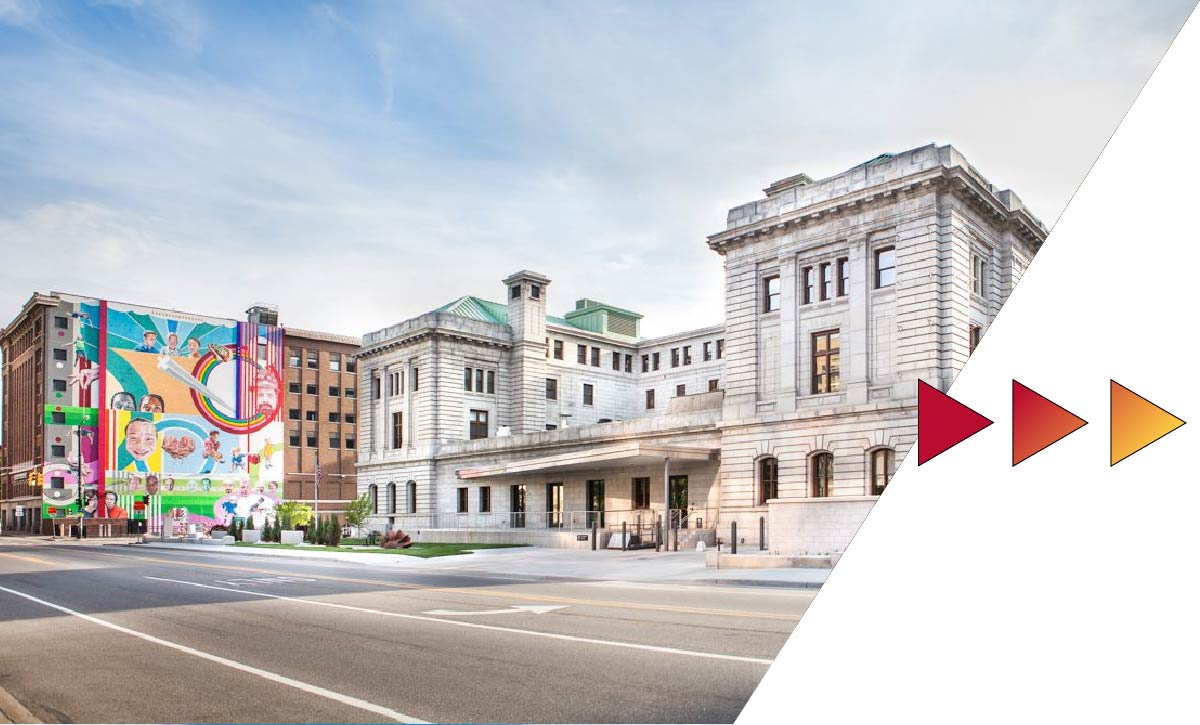 Big Rapids, Grand Rapids, and Beyond
Ferris' main campus is located in Big Rapids, a mid-sized city with a small-town feel and big-city resources. Here, you are an hour from downtown Grand Rapids – Michigan's second largest city, the shores of Lake Michigan and just minutes from outdoor adventure. Ferris also has campuses in over 20 cities in Michigan, including Ferris' Kendall College of Art and Design (KCAD) located in the heart of the creative community of downtown Grand Rapids.
Hear from Our Team
Amy Dorey
Program Director, Hospitality Management
This institution was founded on the importance of providing relevant technical education for our communities, and I am proud to be a faculty member dedicated to continuing this tradition.
Angela Roman
Director of Career and Professional Success
"I chose Ferris 13 years ago and continue working at Ferris because of its commitment to improving students' lives. The workplace has many amenities to get my job done efficiently and enjoyably. My colleagues are supportive and like family. Every day provides a different challenge that keeps me motivated."
Benjamin Boss
Content Management & Scholarly Communication Librarian
"I love working for KCAD and Ferris. As a first-generation college graduate, I know the value of higher education and how what we do here is transformational. And as an artist myself, I'm inspired by all the talent here and feed on that creative energy. This really is my dream job."
Dr. Kasey Lynn Thompson
Associate Professor of Business Ethics, Business, and Strategy
"I am inspired everyday knowing that I work for a university that sincerely cares about the success of every student. The commitment to equity and excellence is in Ferris State's DNA and I am proud to carry on that legacy here."
Corey Spedowske
Custodial
"I've been at FSU for 15 years, and I have grown to really love the atmosphere here. From faculty to students, its been and always is a great place to be! I can't wait for more great memories here to come!"
Ferris State University, an Affirmative Action/Equal Opportunity employer, is committed to enhancing equity, inclusion, and diversity within its community. Ferris offers employment opportunities to qualified candidates seeking careers in a student-focused environment that values opportunity, collaboration, diversity and educational excellence. The University actively seeks applications from women, minorities, individuals with disabilities, veterans, and other underrepresented groups. For more information on the University's Policy on Non-Discrimination, visit: Ferris.edu/Non-Discrimination.
Applicants requiring accommodation or assistance completing an application or participating in the hiring process should contact the Office of Human Resources at (231) 591-2150 or [email protected].