The Michigan Construction Hall of Fame welcomed five inductees during a formal ceremony on Oct. 24, 2013 at Ferris State University's Granger Center for Construction and HVACR. The inductees are pictured below with Ferris President David Eisler.
Eileen M. McCarthy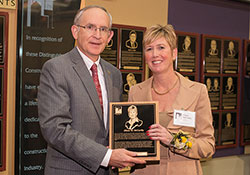 Eileen M. McCarthy was born into the family construction business, McCarthy & Smith Construction of Farmington Hills, Mich. She studied architecture at the University of Michigan and launched her career at Turner Construction in Chicago, as one of two professional women on a staff of more than 200. In 1995, she was promoted to manager of purchasing in Turner's Detroit Office and worked on such notable properties as Comerica Park and the GM Renaissance Center. In 2000, she became partner and vice president of McCarthy & Smith. McCarthy has overseen the company's venture into government contracting and been instrumental in forging a relationship with Daniels Building Company, a disabled-veteran owned business. Committed to mentoring those interested in a career in construction, McCarthy received the Construction and Real Estate Women Champion Award in 2009 and was selected to join its professional development committee, which created a course to help women reach their full leadership potential in the construction industry.
Bob and Karen Schroeder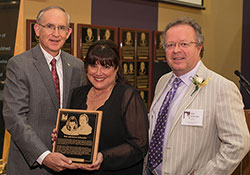 Bob and Karen Schroeder, who founded Mayberry Homes of East Lansing, Mich. in 2002, have a passion for residential construction that fuels their success. They synchronized projects, subcontractors and tradespeople to increase quality standards and profits. Mayberry Homes is known for excellent workmanship, modern design, energy efficiency, creative marketing and customer satisfaction. The
"Wow House" is a company catchphrase and concept that has been central to success. Under the Schroeders, Mayberry Homes has been focused on professional and social responsibility, and recognized for achievements in the construction industry in customer satisfaction, winning two NRS and Professional Builder Magazine awards for customer service. For excellence in energy efficiency, the company has won 2010, 2011 and 2012 Energy Star awards. Mayberry Homes also has been recognized widely for its volunteerism and charitable giving. In 2008, it was the official builder for ABC Television's "Extreme Makeover: Home Edition." Mayberry Homes also has built and raffled off three homes to raise more than $2 million for St. Jude's Children's Research Hospital.
Linda J. Vos-Graham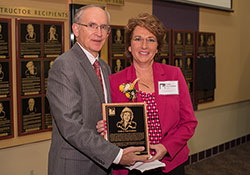 Linda Vos-Graham is president of Vos Glass Inc. of Grand Rapids, Mich., founded in 1982. Over the course of the last three decades, Vos-Graham has helped transform the glass industry through innovation, integrity and service. Under her leadership, the company has doubled in size, employing nearly 60 people and boasting an excess of $10 million in annual sales. Vos-Graham was named one of the 50 Most Influential Women in West Michigan in 2010 and 2012. She was the first female president of the American Subcontractors Association of Michigan and the founding president of the Michigan Glass Association. Her efforts with the Michigan Glass Association helped enact legislation banning insurance companies from restricting customer choice for auto glass repair. Under her leadership, Vos Glass has provided the glass features of several notable West Michigan building projects. As a highly respected leader in the construction industry, Vos-Graham continues to innovate, explore and grow her company strategically to stay at the forefront of the glass industry.
E. Edward Williams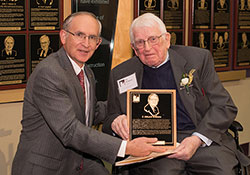 E. Edward Williams is the retired president and CEO of Edwards Glass Company of Livonia, Mich. In 1952, Williams joined his brother-in-law, Peter Iovan, to form the Iovan Glass Company. On his last day at the company, Williams suffered a serious cut on his arm. Recovering, he studied jobsites to improve safety – in workflow, installation procedures, timing and shipping practices. In 1955, he launched Edwards Glass Company. Williams put his powers of observation and innovation to work. Instrumental in creating the Michigan Safety Glazing Code, he also became the first contractor in Southeast Michigan to use the "sling pack" delivery method. Edwards Glass Company has provided glass installations on several notable building projects and been recognized and awarded several times under Williams' leadership. The company won the Detroit Glass Dealer of the Year Award in 1972 and 1973, National Glass Dealer of the Year Award in 1972, and was inducted into the National Glass Dealer Association's National Glass and Metal Hall of Fame in 1998.