The Michigan Construction Hall of Fame welcomed four inductees during a formal ceremony on Thursday, Nov. 6, 2014 at Ferris State University's Granger Center for Construction and HVACR on its Big Rapids campus. The inductees are pictured below with Ferris President David Eisler.
John Bartos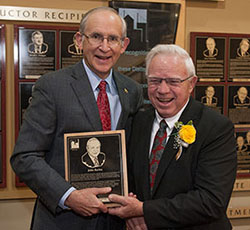 John Bartos lives on the farm that's been in his family for 122 years. Born and raised in Midland, Mich. – the 10th of 15 children – John started his education in a one-room schoolhouse and was expected to continue his father's work as a farmer and carpenter. But John had aspirations for a career in the construction industry and he followed them.
John has retired as the president, CEO and founder of Midland-based Three Rivers Construction Corporation and JS&B Associates, and Texas Rivers Construction based in Freeport, Texas. He also founded Anatek, a forensic engineering firm in 1981, Point North Development in 1982, and Florida Rivers in 1983. He remains active in JS&B Associates, Larkin Pines and Midland Solar Applications.
John was inspired to further his education after approaching his high school assistant principal about his dream to be an engineer. When it was suggested that John's success in woodshop and the Future Farmers of America were indicative of a future in farming, he was motivated to do just the opposite.
After John graduated from high school, he attended Bay City Junior College (now Delta College) then went on to earn a bachelor's degree in Engineering from Michigan State University and a master's degree from Stanford University. He worked as a carpenter while in college and for the Dow Chemical Company in Midland during the summer to pay for tuition.
"When I got out of Stanford, I went to (his assistant principal's house) and said 'I went a different route – here's my master's degree from Stanford.' He looked at me and (said) 'You didn't do what I told you to do, did you?'"
John became president of Collinson Construction Company from 1971 to 1976 and went on to found Three Rivers Construction in 1976 – which, in partnership with his wife, Sandy, grew to more than 400 employees just 10 years later – and Texas Rivers Construction in 1981. He eventually sold both companies to his employees.
His clients have included Dow Chemical and Central Michigan University in Mount Pleasant. Three Rivers was chosen to build the Dow Diamond in Midland, home of the Great Lakes Loons minor league baseball team, the Class A affiliate of the Los Angeles Dodgers.
John was a founding board member of MiTech in 2000 as well as the Associated Builders and Contractors Saginaw Valley Chapter in 1977. He helped start the Greater Michigan Construction Academy to promote vocational education and training. His service as chairman of the National Center for Construction Education and Research Training, in 1996, also is indicative of his support for construction education opportunities.
He was appointed by Michigan Gov. John Engler to serve on the Michigan Occupational Health and Safety Administration governing committee from 1993 to 1998.
John's involvement in the community has been extensive and includes service on more than 25 state and local organizations, including as director of the Charles J. Strosacker Foundation, the Brownfield Redevelopment Authority and the Entranceways Initiative Task Force of the Midland Area Community Foundation. He is past director of Comerica Bank, was chair of the Midland Community Celebration for Dow Chemical's 100th Anniversary and also served the Midland Center for the Arts, Big Brothers/Big Sisters, United Way and the Dow Community Advisory Panel.
John is on the boards of Mid-Michigan Medical Center, Mid-Michigan Innovation Center, Blue Water Angels, Midland Community Foundation and Midland Tomorrow, and is a trustee on the Midland Baseball Foundation.
His honors include the Midland Chamber Excellence in Community Service Award, Boy Scouts of America Distinguished Citizen Award, the Ted Doan Entrepreneurial Leadership Award, the Midland Chamber Award for development of business and education partnership, Paul Harris Fellow and induction into the Junior Achievement Hall of Fame.
Benjamin Capp Jr.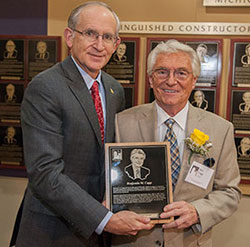 Benjamin Capp was just nine years old when his father let him tag along to the small construction grade marble shop he owned in Detroit. By the time he was a teenager, Ben was spending summers at Wolverine Marble Company to help his father with the growing business he would eventually take over and expand into the Midwest.
Ben attended Lawrence Technological University in Southfield, Mich., for one year before joining the U.S. Army in 1954. After serving 18 months in Germany, he returned to work full-time at Wolverine and attended night school at Lawrence Tech to finish his degree in Construction Engineering.
Customers became so well-acquainted with Ben that when his father was away from the office, they would ask for "Junior." Technically, Ben's middle name begins with a "W," and his father's begins with an "A."
"I tried to explain the difference, but it didn't matter," Ben said. "I always ended up as Junior, which I was proud of. I really tried to follow in his footsteps."
And that he did. Ben became president of Wolverine in 1972 and served in that capacity for the next 20 years, when he handed the reins to his own son, Ron.
"That was very rewarding to me," Ben said.
During his tenure, Ben, along with his brother, Stan, who served as vice president, was behind Wolverine's growth from residential and light commercial work to major projects across Michigan and the Midwest. In 1980, the company – now Wolverine Stone – added a ceramic tile division that enabled it to broaden its services to the construction industry.
Some of Wolverine's most prominent projects under Ben's presidency – for which he is most proud – include the State of Illinois Center, renamed the John R. Thompson Center, on Randolph Street in downtown Chicago; the All Saints Mausoleum in Des Plaines, Ill.; and the American Center in Southfield, Michigan.
Wolverine Stone also is responsible for work at the Fisher Theater, Detroit Institute of Arts, Blue Cross Blue Shield and the Renaissance Center, all in the Detroit area.
Ben credits Wolverine's loyal employees with the company's success.
"During my father's time, my tenure, and now my son's time, we have had dedicated employees who are like family," Ben said. "They are loyal to the company; we've always had that base, for which we are very proud."
For the duration of his career, Ben has been in tune with the needs of the marble and tile industry. He was active in labor-management negotiations, is former chairman of the Association of Marble Contractors and Finishers of Detroit and a former trustee and chairman of the Tile, Terrazzo and Marble Supplemental Unemployment Benefit Fund for Local 32.
He is past director and vice chairman of the Construction Association of Michigan and a former three-term director and secretary/treasurer of the Marble Institute of America, where he also served one year as president.
Ben is chairman of the Labor Management Cooperation Committee of Bricklayers and Allied Craftworkers, Local 2, in Detroit, and is vice president of the International Council of Employers of Bricklayers and Allied Craftworkers in Washington, D.C.
Ben's service to the industry has been recognized with three lifetime achievement awards – from the International Masonry Institute in 1999, St. John Hospital Guild in 2006 and the Detroit Ceramic Tile Contractors Association in 2012. He also was honored by the National Society of Fundraising Executives as 1996 Volunteer of the Year.
Ben continues to work as a consultant in the industry.
Phillip V. Frederickson
Phil Frederickson was taking a business class at Alma High School when his interest in construction took hold. His fascination with the structural work behind a new addition to the school fueled his desire for a career in the industry.
He enrolled in Michigan Technology University and earned a bachelor's degree in Civil Engineering. Upon graduation, Phil put his construction career on hold to run his father's car dealership in Alma. Phil found that this responsibility gave him a leg up on his fellow graduates in terms of management and business experience which he brought with him into the construction industry.
He was hired in 1967 by the Lansing-based Christman Company as a project engineer and began building the foundation for a successful 35-year career. In 1973, he began advocating for a team-based construction management approach as a method of project delivery at Christman as well as in the Michigan construction industry. The following year, he was appointed vice president in charge of construction management services and began climbing the ladder to executive vice president and general manager, followed by president, chief executive officer and chairman of the board of directors.
Under his leadership, the Christman Company grew its in-place construction from $17.6 million in 1983 to $340 million when he retired in 2002. It ranked in the top 400 contracting firms in the country and one of the top five in Michigan in 1996.
Phil led Christman's expansion into real estate development and its effort to become a national expert in historic preservation. That effort netted a Build America award for historic preservation of the Golden Dome at the University of Notre Dame in South Bend, Ind., in 2000. The company also managed the restoration of the Michigan State Capitol in Lansing. (The company currently is managing renovation of Ferris State University's Rankin Student Center into the David L. Eisler Center.)
Among Phil's favorite projects constructed under his leadership include the Breslin Student Events Center and Wharton Center for the Performing Arts, both at Michigan State University; Soaring Eagle Resort in Mount Pleasant; the Graying Generating Station and Genesee Power Station design-build programs; and Auto-Owners Insurance Company's national headquarters in Lansing.
During his career, Phil was honored with the Marvin Black National Excellence in Partnering Award from the Associated General Contractors of America and was inducted in recognition of excellence in engineering and civil service into the Michigan Technological University Academy of Civil and Environmental Engineers.
He is a former member of the National and Michigan Societies of Professional Engineers, and served as vice president and president of the Michigan Association of General Contractors. He was awarded honorary lifetime membership in the latter.
Phil also served on the Michigan Technological University President's Society, is a former director on Ferris State University's Construction Management Advisory Board and was a director on Michigan State University's Civil Engineering Advisory Board.
He is a past commissioner for the Delta Township Parks and Recreation Commission, a former board member for the Woldumar Nature Center and served on the Michigan National Bank Advisory Board of Directors. For 17 years, he served as a director for Auto Owners Insurance Company Group.
He and his wife, Sylvia, established a private foundation, the Phillip V. and Sylvia M. Frederickson Foundation, in 2007 to benefit community volunteerism through grant-making.
Since his retirement, Phil has remained an active partner in The Christman Company's real estate development projects.
In addition to being known for his pioneering efforts and leadership abilities, Phil championed career development and growth within the company and attributes much of Christman's success to its loyal employees and increased employee ownership that has expanded under his son, Steve's presidency.
"I've always had a concept of concentrating on the people around you, concentrating on their careers and their success," he said. "If you can help the people around you grow and develop and be successful, then it automatically comes to you."
Ken Lawless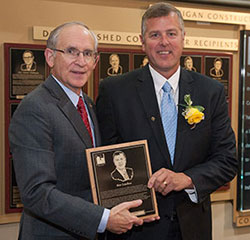 Ken Lawless was sitting in a business management class at Ferris State College when his wife knocked on the classroom door to tell him Leon Clark, founder of Clark Construction Company in Lansing, Mich., had called to schedule a job interview. Ken left class to return the call and interviewed with Clark the following day. He got the job.
That was the beginning of a nearly four-decade career with Clark Construction. Since the Portland, Michigan, native started work there in 1978, Clark has garnered more than $1 billion in construction projects attributable to Ken's efforts. He also has helped the company grow considerably in the corrections, retail and resort/entertainment markets.
Ken, who earned an associate's degree in Architectural Technology in 1976 and a bachelor's degree in Business in 1978, both from Ferris, started his career with Clark as a project manager. He worked his way up over the years to project director, vice president, chief operating officer and executive vice president.
Ken has overseen several projects during his tenure with Clark, including the construction of Cooley Law School Stadium in Lansing, home of the Lansing Lugnuts minor league baseball team, the Class A affiliate of the Toronto Blue Jays. The $15 million stadium garnered a Build America Award from the Associated General Contractors of America in 1996.
His experience also includes Bay Harbor Marina District in Petoskey, winner of a 1999 Build Michigan Award; the Mountain Grand Lodge and Spa, and Avalanche Bay Indoor Waterpark in Boyne Falls, a Build Michigan Award winner in 2005.
Ken became an owner of Clark Construction Company in 2005, the same year Engineering News Record selected the company as one of the top 100 construction management firms in the nation.
A strong advocate of skilled training and personnel development, Ken helped Clark develop a highly successful training program that was recognized with the Cornerstone Award for Training Excellence in 2008 and the Keystone Award for Education Excellence in 2013 by the AGC of Michigan. Even in semi-retirement, he continues to coach and mentor everyone from project engineers to vice presidents.
Ken served as chairman of the board of directors of the Associated General Contractors of Michigan, the state's leading commercial construction association.
During his professional career, Ken has served on numerous boards and committees, including the State of Michigan Construction Code Commission, Michigan Energy Code Review Committee and State Construction Management Task Force. He is past president of the Construction Specifications Institute and Lansing Builders Exchange, and former business manager of the Construction Managers Association of America.
His civic involvement includes membership on the board of directors for Highfields, a Lansing-based organization that serves at-risk children and families, and service as board secretary for the Portland Federal Credit Union.
Ken's connection to Ferris began when his grandfather, John, attended in 1906. His cousin, Joe, was a member of the Optometry program's second graduating class, and his brother, Steve, and his son, John, also are Ferris alumni. Ken currently serves on Ferris's Construction Technology and Management Program Industry Advisory Board, helping to shape future college graduates.
Ken is the recipient of the 2006 Ferris State University Distinguished Alumni Award and is a former member of the university's Academic Advisory Board.
He and his wife, Cynthia, established the Michigan Construction Hall of Fame Endowment to provide further recognition of recipients of the Distinguished Constructor Award.