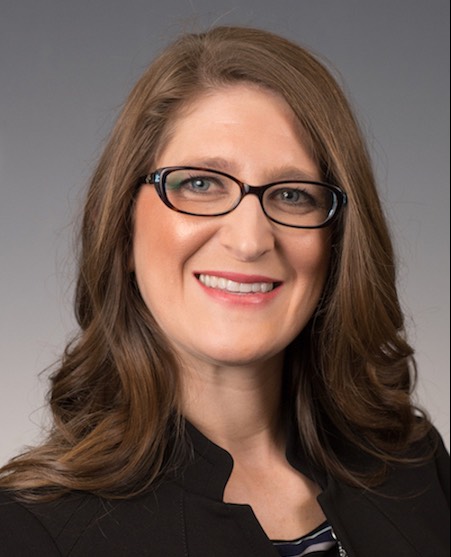 Kali VanLangen, Professor of Pharmacy, is the recipient of the 2020 Academic Scholar Award for demonstrating excellence in research and scholarship and for modeling
exceptional qualities of the teacher-scholar model in discovery, integration, application, and teaching.
"Kali is an outstanding academic scholar with an increasingly significant track record of excellence in research and scholarship," said Thomas Dowling, Professor and Assistant Dean for Professional Development and Research in the College of Pharmacy in his nomination letter. "Her work has deeply improved our understanding of teaching and learning within the pharmacy profession..."
In addition to teaching in the College of Pharmacy's Advanced Pharmacy Practice Experiences (AAPE), VanLangen is a course coordinator for three courses, provides didactic instruction, and is an Internal Medicine Preceptor and an Academia Preceptor in the PGY-1 Residency Program at Mercy Health Saint Mary's.
VanLangen attributes collaboration with others to successfully getting research projects to completion. "Collaboration allows you to discuss ideas and get energized from the excitement of others while trying to develop innovative projects that address common questions and help solve problems," she said. "Collaboration also allows you to learn from others' experience in order to enhance your own skills and abilities while also giving you the opportunity to highlight your own skills with others. [It also] ... forces me to stay on track with projects that may otherwise get pushed aside for newer opportunities or other general responsibilities."
VanLangen has published 10 scholarly manuscripts since 2012, with five of these as first author in peer-reviewed journals such as the American Journal of Pharmaceutical Education (AJPE) and Currents in Pharmacy Teaching and Learning (CPTL). "Dr. VanLangen's scholarly work has generated significant new knowledge in pharmacy educational research (also called the scholarship of teaching and learning or SOTL)," Dowling said. "This work serves as an underpinning for future studies, particularly in the areas of electronic health records in the curriculum, APPE readiness, and perceptions of Entrustable Professional Activities (EPAs)."
In addition to writing two textbook chapters, and a review article used for professional continuing education, and VanLangen, along with colleagues, designed and delivered a new course on integrated therapeutics.
VanLangen serves the profession of pharmacy through leadership roles in professional organizations, advises students and trainees in professional development, and is a dedicated teacher. "I am very grateful for Dr. VanLangen as her guidance has helped me evolve as a student pharmacist and I know many of my classmates are thankful as well," said Kamah Ellena Ferris State University Pharm.D. Candidate 2020. "Her dedication to teaching students is incredible. Dr. VanLangen has not only made an impact in healthcare through her clinical interventions and patient care, she has helped equip many young pharmacists to make a difference and advocate for patients as well."
VanLangen earned a Doctor of Pharmacy and an Associate of Science/Pre-Pharmacy, both from Ferris state University.
VanLangen and other recipients of the 2020 Academic Affairs Awards will be recognized at the virtual Employee Service Awards ceremony planned for Thursday, August 27, during Kickoff Week.