Steve Reifert, Interim Associate Provost of Academic Operations
Steve Reifert currently serves as Interim Associate Provost of Academic Operation and the Dean of Extended and International Operations (EIO) with the following areas of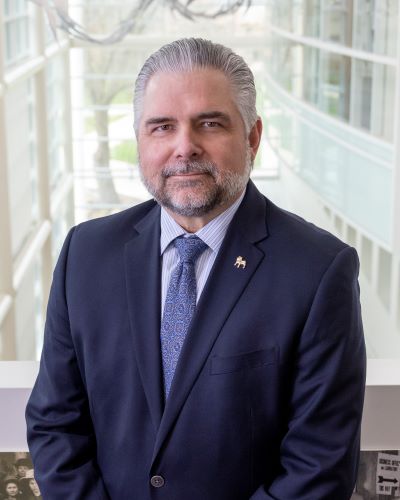 responsibility:
eLearning

Doctorate in Community College Leadership

Office of Graduate Studies

Regional/State-Wide Locations

EIO- Marketing

EIO Admissions/Student Affairs

Office of Transfer and Secondary Partnerships

Corporate and Professional Development

Office of Innovative Initiatives
Dr. Reifert has been at Ferris State University since August of 2006. He started as faculty in the School of Criminal Justice and then became Director of that School, followed by Interim Associate Dean of the College of Education and Human Services, and then Interim Dean of that College (2014). He began the role of Dean of EIO in July of 2016. He began as the Interim Associate Provost of Academic Operations in July 2022.
Dr. Reifert has a Ph.D., in Sociology from Western Michigan University, a Master's in Public Administration from Ball State University and a Bachelors in Social Psychology from Park University.
His prior profession was in law enforcement and began in the US Air Force where he worked as a law enforcement specialist and then became a Special Agent for the Air Force Office of Special Investigations. He investigated major crimes and frauds against the US Air Force and federal government.
He separated from the Air Force and started with the City of Kalamazoo. There he worked as a Public Safety Officer later retiring as a lieutenant. He held many jobs as an officer, which included undercover work, community officer, crime prevention, hostage negotiations, project management and command responsibilities for shift work and our dispatch center. He retired from the City to take the position at Ferris.
Dr. Reifert enjoys outdoor activities such as hunting and fishing and more importantly spending time with the grandchildren. He lives in Big Rapids with his wife of 44 years.