Mandy R. Seiferlein, Associate Provost of Assessment & Accreditation
Mandy Seiferlein was selected on Wednesday, June 10, 2020 to serve as Ferris State University's Associate Provost of Assessment and Accreditation.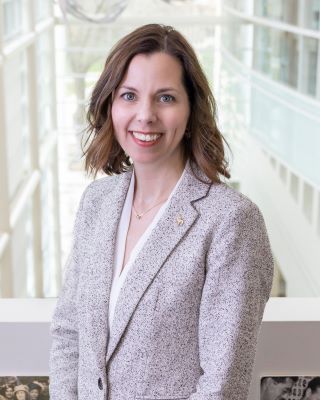 Since the fall of 2018, Seiferlein has served as Interim Associate Provost in the university's Division of Academic Affairs. In addition to providing leadership and oversight for university-wide assessment of student learning and academic program planning, she has played an essential leadership role on the Higher Learning Commission Leadership Team. The team is leading Ferris' efforts to prepare for the Commission's reaffirmation of accreditation visit, which is set for this October. As the Accreditation Liaison Officer, Seiferlein has served as a key contact for all HLC matters and has provided support to academic programs with specialized accreditation.

"Along with the entire HLC team, Mandy has done an incredible job bringing together the people and resources needed in developing our assurance argument and preparing for the HLC visit this fall," Provost and Vice President for Academic Affairs Paul Blake said. "Her commitment to academic excellence, strong collaboration skills, and experience at both the college and university-wide levels in assessment and accreditation will serve Ferris well."

Seiferlein has almost 18 years of service at Ferris. Before serving as Interim Associate Provost, she held various positions in the College of Pharmacy, including Director of Assessment and Accreditation and Director of External Clinical Operations. She has expertise in curricular and programmatic assessment, accreditation report writing, curriculum development, and faculty and staff professional development. Her contributions to scholarship in the area of assessment include both oral and poster sessions at the national level and publications and research from her work in the COP. Seiferlein is also responsible for administering the Carl D. Perkins Grant at Ferris. This federal initiative aims to promote access, retention, and completion of students in career and technical education.

In addition to her pivotal work on the HLC Leadership Team committee, Seiferlein's key committee assignments have included co-chairing the Criterion 4 Subcommittee for the HLC Reaffirmation, serving as co-chair of the Academic Affairs Assessment Committee, and vice chair of the Graduate Education Task Force Subcommittee on Graduate Program Administration. Seiferlein has also lent support to many COP accreditation and standing committees. In 2005, she received the Ferris Distinguished Staff Award.