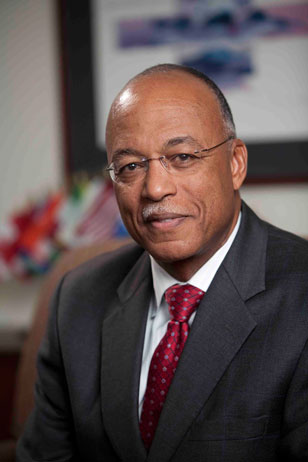 Dr. Melvin D. Shipp, OD, MPH, DrPH, former Dean of The Ohio State University College of Optometry spoke at this year's Victor Spathelf lecture on Friday, September 30, 2016, at Ferris State University.
Dr. Shipp presented "Ensuring Optimal Health Outcomes Through Effective Coordination."
Prior to becoming the Dean of The Ohio State University College of Optometry, Dr. Shipp was a Professor at the University of Alabama at Birmingham School of Optometry, where he also served as the Assistant Dean for Clinical Services and Director of Clinics.
Dr. Shipp is a Past-President of the Association of Schools and Colleges of Optometry a non-profit education association representing the interests of optometric education. He is currently a member of the Board of Directors and Immediate Past President of the National Board of Examiners in Optometry. He was the Founding Chair of the Education Board of the American Public Health Association (APHA), the world's oldest and largest public health association. He later served two terms as APHA Treasurer, and in 2010, became the first optometrist to be elected to the office of APHA President.
Dr. Shipp has served as an advisor/consultant to several federal institutions, notably, the Food and Drug Administration, the Health Resources and Services Administration, and the National Eye Institute (NEI) of the National Institutes of Health. Currently, he is the optometry representative on the Special Medical Advisory Group, which advises the Secretary and the Under Secretary for Health of the U.S. Department of Veteran Affairs.
Dr. Shipp received a Doctor of Optometry (OD) from Indiana University, a Master of Public Health (MPH) from Harvard University, and a Doctor of Public Health (DrPH) from the University of Michigan. Dr. Shipp is only the second optometrist to earn the DrPH degree and the first to do so through the Pew Health Policy Doctoral Fellowship Program at the University of Michigan. He is the only optometrist to receive a Robert Wood Johnson Health Policy Fellowship and serve as a health legislative assistant in the U.S. Senate.
The Spathelf Lecture is a collaborative effort between the College of Health Professions, the College of Pharmacy, and the Michigan College of Optometry. The lecture series is an opportunity for students to hear from influential and accomplished professionals in the healthcare field. In addition to Shipp's presentation, a luncheon was held involving students from all three colleges.
---
Third Annual Victor Spathelf Lecture Event - Marsha Rappley
Second Annual Victor Spathelf Lecture Event - Frank Ascione