Frank Ascione, former dean of the University of Michigan's College of Pharmacy, spoke at this year's Victor Spathelf lecture on Friday, Oct. 3, 2014 at Ferris State University.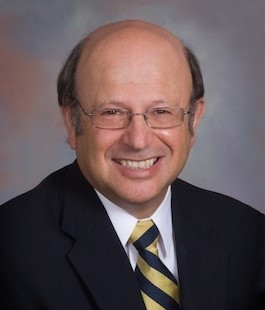 Ascione's talk, "the Future of Healthcare: A Team Approach," gave the audience an authoritative view of the significant trends and "megatrends" shaping healthcare in the future. Ascione outlined the cutting-edge developments that are now entering into healthcare, including significant advances in sensors, genomic assessment and globalization. He further outlined in detail, for the 300 students in attendance, multiple skills that will be needed to be an effective practitioner in the future.
Ascione has won several awards for educational innovation, including one from the Smithsonian Institution. His past research has included evaluation of various models of medication therapy management, consumer medication taking behavior, and the use of technology in pharmacy practice. In 2014, the Michigan Pharmacist Association awarded Ascione the Pharmacist of the Year Award, Michigan's highest honor in the pharmacy profession.
Beverly Schmoll, dean of the College of Health Sciences at the University of Toledo, joined Ascione during the student and faculty panel discussion following the lecture. Her extensive expertise in curriculum development and teaching and learning as well as ideas on service leadership expanded the breadth of the discussion.
The Spathelf Lecture is a collaborative effort between the College of Health Professions, College of Pharmacy, and the Michigan College of Optometry. Held during Homecoming Week, the lecture series is an opportunity for students to hear from influential and accomplished professionals in the healthcare field. The day included a breakfast with Ferris staff and alumni and a luncheon with students from all three colleges.