Alex Gorsky is Chairman and Chief Executive Officer of Johnson & Johnson. Alex is the seventh person to serve as Chairman and CEO of Johnson & Johnson since it became a publicly traded company in 1944.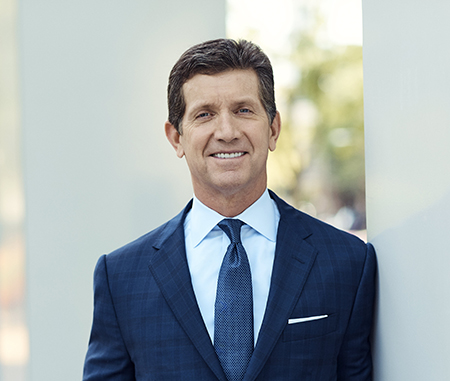 Alex began his Johnson & Johnson career as a sales representative with Janssen Pharmaceutica in 1988. Over the next 15 years, he advanced through positions of increasing responsibility in sales, marketing, and management. In 2001, Alex was appointed President of Janssen, and in 2003, he was named Company Group Chairman of Johnson & Johnson's pharmaceuticals business in Europe, the Middle East and Africa The College of Health Professions, College of Pharmacy and the Michigan College of Optometry were pleased to welcome Gorsky back to the Big Rapids campus to speak on the future of health and healthcare.
Alex spoke at a previous Victor Spathelf Lecture nearly six years ago. Dr. Paul Blake, Provost and Vice President for Academic Affairs, provided an unscripted introduction for his dear friend Alex and set the stage for a two-hour question and answer panel discussion lead by faculty, staff and students. Gorsky opened by saying, "…I'm a kid from Fremont, Michigan. I went to a public school and I came from a very middle class family. Six kids in our family… I never dreamed that I would one day have this kind of an opportunity... I encourage all of you, regardless of where you're from or your background, aim high, dream big there is nothing you can't really achieve when you really put your mind to it".
He further went on to explain the importance of healthcare in our country and that we will all be faced with a healthcare challenge at some point in time, "there are few things in the world that are more important; more personal, than healthcare".
Alex entertained several panel discussion questions related to future trends in healthcare, changing technology, social determinants of health and Johnson and Johnson's commitment to the advancement of healthcare, to name a few.
Gorsky explained that the biggest changes he has witnessed in the last six years surround advancements in innovation and technology: "...the acceleration that's being enabled by the continuous consistent improvements in technology via data, via robotics, via sensing, via connectivity, via artificial intelligence is remarkable; exponential. Every day that goes by we see a new possibility, a better understanding of genomics, we see a better understanding of how we can connect sensors to prevent or perhaps intercept disease. A great example is Multiple Myeloma; a very difficult condition. The head of Johnson and Johnson's Supply Chain died six years ago due to Multiple Myeloma. Since, we have been able to introduce a product within the last 18 months that has reduced morbidity and mortality by over 35%".
Gorsky also noted global perceptions of the increasing politicization of healthcare. "It is certainly the case here in the United States; driven by inequities in income, driven by inequities in opportunity and in education. [There] is a hyperpolarization going on now politically that is amplified via social media and through a lot of other activities… I don't think this is completely unique to the United States. I think we're seeing it played out in the UK, you're seeing it played out in Germany, you're seeing it played out in China and I think what it's creating now is an environment certainly in business where not a day goes by where you're not pulled in and you're thinking you're going to go face a big business or science discussion but instead you're facing a big political issue... I thought 'I can't wait until I can just be a CEO' but now every day I come in and some days I have to be a politician or an economics. I have to come in and have a point of view on this or that and I've seen a rapid acceleration of that trend".
Alex closed the panel discussions by sharing with the audience lessons he learned from interacting with great leaders, "...they are great listeners. I can remember talking to President Obama about some of those same issues and also areas of sustainability; he would always lead with a question... My mother died about 14 years ago, she would say, 'Alex, you'll never hear anything when you're talking'. Learning how to listen is so important…. Something that every great world leader that I've had the chance to meet knows is the importance of being able to communicate… how do you communicate in a way that makes people feel a part of something bigger than themselves?"