Brooke Moore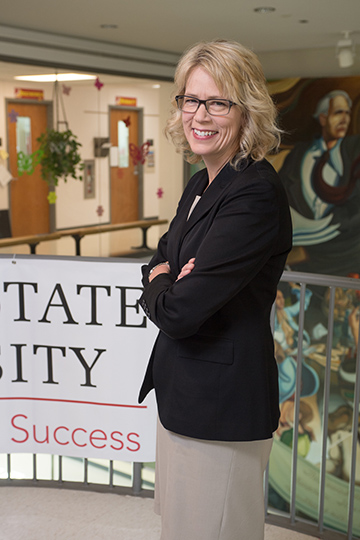 Known for her dedication and passion in supporting and providing superior services to students, Brooke Moore is the recipient of the 2017 Outstanding First-Year Advocate Award. She has recently been appointed as the Faculty Coordinator of Special Projects for the Faculty Center for Teaching and Learning (FCTL) and continues as the Texas Cohort Program Director for the Doctorate in Community College Leadership (DCCL).
Moore has worn a number of hats since coming to Ferris in 2006. As a Visiting Assistant Professor of Communication, she developed a reputation for being a warm and engaging instructor and was highly sought by students for her enjoyable public speaking course. The Faculty Center for Teaching and Learning leveraged Moore's expertise when she worked as the FCTL's Faculty-In-Residence. For the last three years, Moore has been the Coordinator of First Year Seminars and an Academic Advisor in the unit of Retention and Student Success.
Moore's commitment to excellence in education was recognized when she was named Ferris State University's 2013 recipient of the Adjunct Teaching Excellence Award. Since then, she has made signification contributions to improving college success for first-year students.
"My philosophy in working with first-year students is based on the theory of empowerment," wrote Moore in her nominee response form. "I work to support students by listening and providing appropriate resources, so they are able to be well informed to make their own choices. I take a positive outlook in helping students and see myself as a support coach."
Moore often works one-on-one with students and says that she welcomes being their first contact and always makes time to talk. She participates in the Academic Support Center's Speaker Series with the presentation, "Go Big or Go Home: 10 Habits of Highly Effective Students" to help students practice the right habits.
In addition to her personal impact on students, Moore has modified the Ferris State University Seminar (FSUS) to provided greater training for the instructors and implement consistent programming across the Seminar. She has also worked diligently to improve the student experience while she was a cohort in the DCCL program.
"I saw this as a great opportunity to work on projects related to Retention and Student Success," she wrote. "For every assignment completed in the program, I found a way to relate it to my job in order to improve the student experience."
Moore earned a Doctorate in Education in Community College Leadership from Ferris State University, a Master of Science in Administration in Organizational Communication from Central Michigan University, and a Bachelor of Science in Management/Organizational Behavior from Miami University.
Moore and other recipients of the 2017 Academic Affairs Awards were recognized on Tuesday, April 25, 2017, at the Employee Service Awards in the David L. Eisler Center.