Laura Dix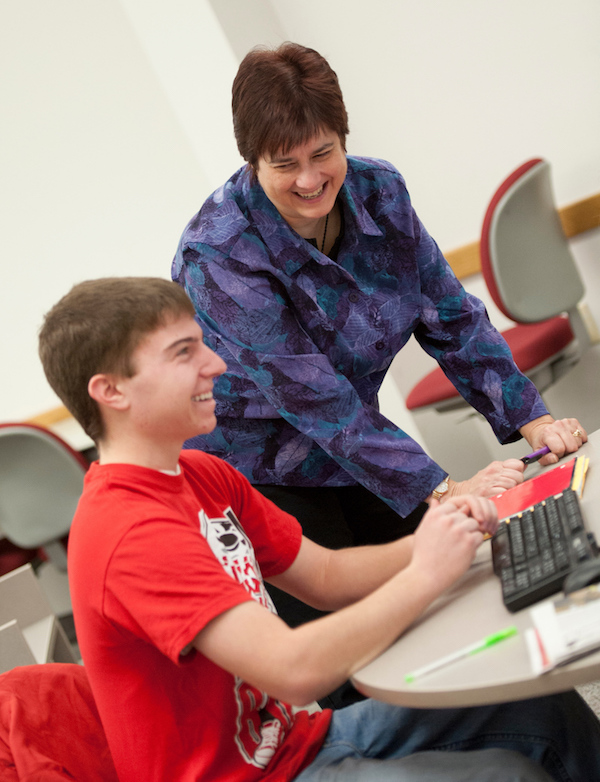 Known for her dedication and passion in advising students, Professor of Marketing Laura Dix has been selected as the recipient for the 2017 Outstanding Academic Advisor award.
"Dr. Laura Dix is a committed and highly effective advisor, who serves not only her assigned advisees but goes beyond to provide support to numerous additional students to help them have a positive experience in their programs," wrote Assistant Director of the Office of International Educator Lisa vonReichbauer in her nomination letter. "She wants students to feel comfortable seeking help from her, but ultimately wants to empower them to solve their own problems. I am always confident that with Laura's help, students make positive and informed choices as they progress through their program to stay on track toward graduation."
Dix sees advising as an extension of her teaching. "As a teacher, I want to help students acquire life-long skills. Helping them to understand their academic choices and consequences of those choices, positive and negative, are important as they make decisions throughout their lives," she wrote in her philosophy statement.
Bachelor of Science Marketing student Alex Bray believes that Dix is the best advisor at Ferris. "Laura is very passionate about helping students reach and exceed their goals. She is always making sure they are heading in the right direction with their classes and are excelling outside the classrooms with involvement in RSOs and Internships," he wrote in his support letter. "She is always looking to assist students in making their dreams come true."
Not only is Dix a resource for students, she is valued by her colleagues for her knowledge and expertise. Assistant Professor of Marketing Linda Fernandes Butler wrote in her letter of support, "Laura is the advisor's advisor, and she has become the resource for other faculty both within the Marketing department and beyond. She is the person we consult with questions that arise in our own academic advising, due to her depth of knowledge of both the programs within the College of Business as well as the processes within the University. Laura has the experience with almost any potential situation that could arise during advising and the knowledge of how to resolve it."
Marketing Department Chair Jeffrey Ek reiterates Butler's words when he says in his support letter, "Laura's knowledge of university policies, procedures, and requirements is second-to-none. She adapts quickly to policy and procedure changes that frequently happen at the University and is our go-to person when questions arise. If you are looking for the model of what a faculty advisor should be, look no further than Professor Laura Dix."
Dix earned a Bachelor of Science in Electrical Engineering from General Motors Institute (now Kettering University), a Master of Business Administration from Indiana University, and a PhD in Business Administration from the University of Illinois at Urbana-Champaign.
Dix and other recipients of the 2017 Academic Affairs Awards were recognized on Tuesday, April 25, 2017, at the Employee Service Awards in the David L. Eisler Center.