Dawn Schavey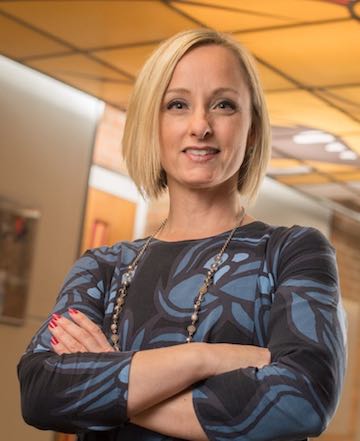 Dawn Schavey has been selected as the 2018 Outstanding Academic Advisor of the Year for her superior service to students, as well as for her innovative practices and outstanding assistance to all advisors at Ferris' off-campus locations.
Through her hard work in Big Rapids and in Grand Rapids, Schavey has impacted many lives. In her support letter, Constance Kline, a Bachelor of Science in Integrative Studies student, writes, "Dawn is a strong advocate for the mission of Ferris State University, and her commitment to the achievement of the academic and personal lives of the students she serves is evident."
Schavey's dedication and care of her advising students along with her comprehensive understanding of what each student needs in terms of support is a constant theme in all of her support letters. Jeff Bean, Program Advising, Placement Coordinator for Eastern Michigan, and teacher, admits that "this is the person I would want as the advocate for my child if they were to attend Ferris, and I am glad she is working with me as a colleague because I know she will fight the good fight."
Assistant Dean of Extended and International Operations Tracy Hilty adds her recommendation. "[Shavey] supports students through the process of prospective student through admitted student. She wants students to have a positive experience and to know exactly what they need to complete to meet their educational goals. For example, she has met a student on a weekend because that is the only time they could meet."
Schavey has been the Senior Academic Advisor for Ferris State University Extended and International Operations for the past five years. She has also served as a past Director of Student Services, held annual statewide advisor trainings, and continues to work diligently on many technical aspects that lead to student success. Transfer student Tyler Ziomkowski observed that this award "was earned through years of being 100% focused and committed to the students she serves." Schavey has worked in the Student Affairs field with experience in student services, enrollment, admissions, financial aid, housing, orientation, and registration so she is able to deliver the highest level of support for her advising students.
In her nominee statement, Schavey says that her advising philosophy is best defined by Chickering (1969), who states that "the fundamental purpose of academic advising is to help students become effective agents for their own lifelong learning and personal development. Our relationships with students … all should aim to increase their capacity to take charge of their own existence." Knowing the student and making them feel appreciated, understanding University policies, procedures, and resources, developing innovative advising strategies, and using recruitment and retention efforts are all the things Schavey brings into every advising meeting.
Schavey earned a Master of Education in College Student Affairs Leadership, and a Bachelor of Science with an emphasis in family services, both from Grand Valley State University. She has worked at Ferris since 2006.
Schavey and other recipients of the 2018 Academic Affairs Awards were recognized on Wednesday, April 25, 2018, at the Employee Service Awards in the David L. Eisler Center.