Ana
Dávila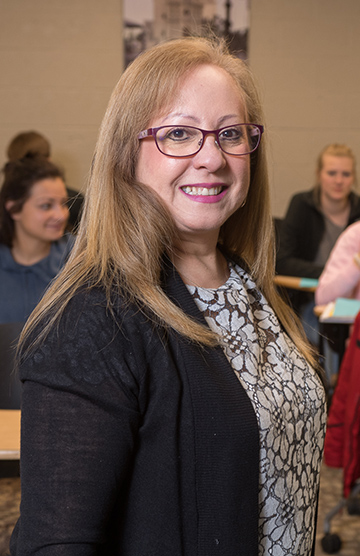 Ana I. Dávila, Associate Professor of Spanish in the College of Arts, Sciences and Education, has been chosen as the recipient of the 2017 International Educator for her exceptional achievement in international education.
"Not only will you observe her tremendous involvement, time, and commitment to so many Spanish-related as well as international events and to so many international students, but also you will discover her quiet, behind-the-scenes dedication to our students overall in her role as an international liaison and advocate," wrote nominator Professor Christine Vonder Haar.
"She offers a hand of welcome and a haven of tolerance and cultural understanding, whether in her classroom, on campus, on a field trip or study abroad, or in her own home sharing a meal, a holiday, or simply conversation. This kind of hospitality and relationship is especially noteworthy and significant in these times of such uncertainty and fear that international students may be feeling," wrote Vonder Haar.
Dávila has played a pivotal role in the study abroad programs at Ferris including organizing and leading eight trips to Spain and Costa Rica. "Ana is a Ferris icon who, for so many years, has enhanced the lives of many students, helping them in the process of becoming richly educated in global and international understanding and become world citizens," wrote nominator Professor Daniel Noren.
"The role of international education has become an important aspect in higher education because advances in technology have changed the way we communicate and interact with others and have helped to bring people closer together," wrote Dávila. "Professors… have the responsibility to promote diversity in academia at all levels. In order for this diversity to take place, an open and respectful environment needs to be fostered so that constructive dialogues can start in the classroom and extend to the general campus community."
Dávila is also known as an inspiring teacher and dedicated advisor to the Ferris Spanish Club and Hispanic Student Organization. "Throughout my years at Ferris, I have witnessed Ana's commitment to the promotion of the Spanish culture and language, as well as her altruistic regard for the progress of her students," wrote student Ebony Morrissette.
Regarding scholarship and University service, "Ana has served on many departmental committees, attends and presents at conferences in her discipline, and was recently granted a sabbatical to Costa Rica. She has also been instrumental, along with the other faculty in the Spanish area, in recently getting the Spanish Major passed," wrote Noren.
Dávila has completed doctoral coursework in Spanish Literature at Florida State University. She also earned a master's degree in Library Science from Florida State University and a bachelor's degree in Spanish Literature, from the University of Puerto Rico, Mayagüez Campus.
Dávila and other recipients of the 2017 Academic Affairs Awards were recognized on Tuesday, April 25, 2017, at the Employee Service Awards in the David L. Eisler Center.