Anthony Baker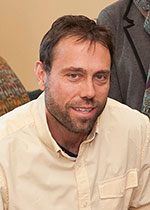 The Diversity Enhancement Award is bestowed upon a faculty or staff member who demonstrates a commitment to the spirit of diversity, leadership through positive interaction between persons of different backgrounds, and special efforts to recruit, retain, and mentor diverse members of the university. The Diversity Enhancement Committee recommended Anthony Baker, Professor and Director of the Hispanic/Latino Cultural Center, as the recipient of this year's honor.
The nomination letters received for Anthony prominently supported the idea that he demonstrates all characteristics that this award is looking to honor. As the founder and director of the Center for Latin@ Studies, Anthony promotes diversity and acceptance on our campus every day. One nominator shares the following:
"Dr. Baker is more than a champion for diversity; he champions inclusion in everything he does. For his work as member of the Grand Rapids Public Schools Board, he enjoys the support of many African American and other minority groups of teachers, staff and parents alike. For his work with the Hispanic Center of Western Michigan, he is regarded in the Latino communities as "one of us". Alay present and supporting events like "Cesar Chavez Day" march, the Latino Youth Conference, Hispanic and Mexican Festivals, etc.
However, I believe the best two examples of his work are launching the Hispanic/Latino Cultural Center at Ferris State University and being instrumental in the development of the Latino Business and Economic Development Center, which I lead. The Hispanic/Latino Cultural Center will support the formation of many young Latino students at Ferris solidifying the institution's interest in increasing the number of Latino students and graduates. The Latino Business and Economic Development Center is poised to be the catalyst of Economic Development in Grand Rapids' Latino community."
Anthony lives by the song, "I'll take you there." He says: "This song by the Staple Singers sums up the actions I have taken to enhance diversity. "There is a place…I'll take you there…come on". My strength is connecting one group with others. These connections lead to relationships. We have to go there. We have to invite Latin@ communities and African American communities and Asian communities and Gay communities to be a part of Ferris, by being in each of these communities. I require my students and my colleagues, to connect with community, if we are to learn from and work with community. "I'll take you there…", is a most enjoyable strategy to doing diversity and inclusion."
We truly appreciate the efforts of Anthony to make Ferris State University an inclusive community, and we are proud to give him the 2014 Diversity Enhancement Award!