Olukemi Fadayomi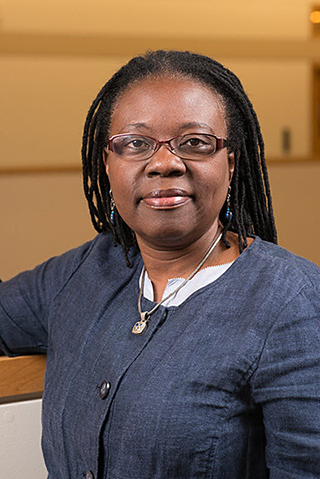 Olukemi Fadayomi, Professor of Biology, has been chosen as the 2018 recipient of the Diversity Enhancement Award for her commitment and leadership in enhancing diversity and harmonious relationships at Ferris State University.
"It is Professor Fadayomi's dedication on multiple committees, her student mentorship, and her work co-developing the FCTL Institute on Inclusion and Inclusive Classrooms, among others, that demonstrate why she is most deserving of this award," the Diversity Enhancement Award committee wrote in its comments.
Fadayomi is known across campus for her hard work and commitment to the University. She is "an exemplary educator and scholar who continually dedicates herself to promoting excellence in activities that foster diversity and inclusion within the university community," Assistant Professor of Public Health, Anuli Njoku, wrote in her nomination letter.
"Equity and fairness for all is the foundation on which my diversity and inclusion philosophy is built," Fadayomi wrote. "Diverse and inclusive communities enrich our lives and allow human beings to reach their full potential."
"My commitment is to advance the University's diversity and inclusion efforts in preparing students for a culturally diverse workplace and make the University an environment where all people – student, faculty, and staff feel welcome," Fadayomi continued.
In addition to her work with creating welcoming classrooms, some of Fadayomi's service has been to co-develop and co-lead the Annual Equity By Design Forum; design and facilitate the first Integrated Course Design (ICD) series of workshops; facilitate over twenty workshops on topics such as microaggressions, stereotype threats, implicit bias, and creating inclusive college classroom; co-lead diversity-themed book discussion groups for the University community; and assist the Office of International Education to assess the effectiveness of the BEYOND Conflict program. Service on diversity committees, work groups, and task forces include the Minority Retention Task Force, Senate Diversity Committee, Student Affairs Leadership Council, and the International Education Committee.
As a Fulbright Scholar, Fadayomi has traveled to universities around the world to lecture and mentor students of all ages. For the last five years, she has been the advisor for the African Student Union RSO. "Her passion for building a globalized society is obvious through her participation and tremendous support for OIE and international students," describes Ghada Mahdi, a Faculty member from the West Michigan English Language Institute.
Fadayomi has served Ferris as a Professor of Biology since 1997, and has recently become a Certified Administrator for Intercultural Developmental Inventory. She has a doctorate degree in Biology-Immunoparasitology, a Master's degree in Biology-Microbiology, and a Bachelor's degree in Biology.
Fadayomi and other recipients of the 2018 Academic Affairs Awards were recognized on Wednesday, April 25, 2018, at the Employee Service Awards in the David L. Eisler Center.