John Scott Gray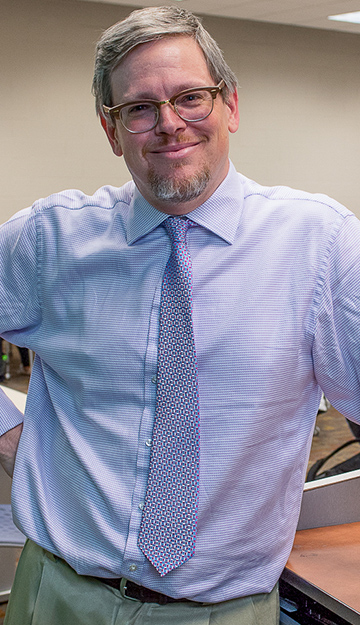 Philosophy Professor John Scott Gray has been named as Ferris State University's recipient of the 2016-2017 Distinguished Teacher Award.
Gray, a resident of Canadian Lakes, Mich., came to Ferris' College of Arts, Sciences and Education in the fall of 2006, having earned his Bachelor of Arts, from Furman University, in Greenville, S.C.; a Master of Arts from Baylor University in Waco, Tex.; and a Ph.D., from Southern Illinois University, in Carbondale. The Distinguished Teacher Award Committee made its selection, following a process that includes classroom visits, student input, evaluation of semifinalist essays and curriculum vitae, and interviews with finalists.
"I am truly excited by, and love my job," Gray said. "I am feeling very much honored to be selected as the recipient of the Distinguished Teacher Award."
Provost and Vice President of Academic Affairs Paul Blake said the university is proud to see Gray win the award.
"This award comes to Dr. Gray along with some very distinguished company and very accomplished practitioners," Blake said. "John fits that company beautifully. His energy, passion for his content area, and intense and genuine concern for students, is exemplary and make this a very wise choice."
The Provost's office hosted a dinner in Gray's honor on Tuesday, April 11, 2017.
"When I spoke at that gathering, one of the first things I felt was melancholy," Gray said. "Receiving this honor means I have reached a mountain peak. But now, I see my task as continuing to earn this award in the classroom, and serving the university."
College of Arts, Sciences and Education Dean Kristi Haik also praised Gray, describing him as "one of our best and brightest faculty members."
"John Scott Gray is not only an outstanding professor, but an outstanding person," Haik said. "His commitment to his students, his colleagues, his discipline and the university is part of what make him so deserving of this award."
Gray has taught more than a dozen classes while on the faculty at Ferris, and has led Study Abroad trips to Italy, France and Spain. He has published "Introduction to Popular Culture" with fellow Humanities faculty Randy Groves and Robert Quist, and offered contributions to a dozen publications during his service to the university.
"Every Monday morning, I find myself wanting to join my students and colleagues, as it is a great experience to be a university professor," Gray said. "The Distinguished Teacher Award is something I very much wanted, as it is the highest honor for a teacher at this university. I see myself as a teacher, first."
Gray added that the support of his wife, Jo, and his son, Oscar, is a key component of his personal and professional accomplishments. He officially received the Distinguished Teacher Award at Ferris' Employee Service Awards reception on Tuesday, April 25, 2017, in the David L. Eisler Center ballroom.