Khagendra Thapa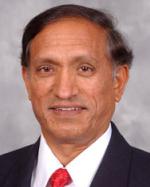 Teaching for Khagendra Thapa means making a difference in the lives of others. Dr. Thapa's colleagues agreed when naming the professor of Surveying Engineering the 2008 Distinguished Teacher at FSU.
Thapa's colleagues are not the only people who recognize the drive and dedication of the professor, who holds five degrees from four countries, including his native Nepal, Canada, England and the United States. He also was recently recognized by the Michigan Society of Professional Engineers with the Ralph Berry Moore Education Award for his leadership at the North American Surveying Educators Conference and his contributions to the American Congress on Surveying and Mapping. Specifically, Thapa has contributed to the ACSM as a member of the Curriculum, Accreditation, Registration and Education Committee.
The U.S. Department of Labor also recognized Thapa with a Certificate of Appreciation for his contributions to the National Occupational Information Network Data Collection program. "Teaching is a noble profession in which I can make a difference in the lives of others," he said. "The students I teach are not my children, but when I see them succeed, I feel good that I made an impact in their lives."
Teaching at Ferris for the past 21 years, after spending two years teaching at the Engineering Institute in Kathmandu in Nepal, Thapa will continue his active involvement.
He was appointed 2008-09 commissioner of the Accreditation Board for Engineering and Technology, an organization he has been involved with as an evaluator for many years. He also will remain involved with Ferris' Academic Senate, for which he has been involved since 1989. Annually, he will continue providing scholarship assistance to one Surveying Engineering student.