Deborah Rockman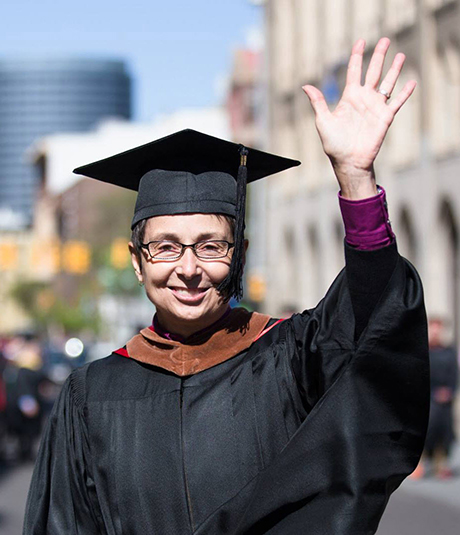 Deborah Rockman has witnessed significant change at the Kendall College of Art and Design of Ferris State University, where she has taught Drawing for 35 years. The textbook author and award-winning artist has become the first KCAD faculty member to receive Ferris' Distinguished Teacher Award. She was selected for the honor by an Academic Senate committee supporting this process for the University's Office of the Provost and Vice President for Academic Affairs.
Rockman, who had chaired the Drawing and Printmaking programs at Kendall, will retire from full-time instruction at the end of the current academic year. She said colleagues made the nomination, then she submitted an essay to a review committee as part of the selection process.
"I am so thrilled to receive this honor, particularly in my last year," Rockman said. "I am happy and sad at the same time, to be coming to this point. For nearly 60 years, I have headed back to school each fall, and it is hard to consider being away from my colleagues, many of whom are my friends."
Rockman said that program development has been an interesting aspect of her time on the KCAD faculty, along with experiencing a wide range of administrative philosophies over that period.
"I came from what was then Moorhead State University, in Minnesota, to Kendall," Rockman said. "At that time, the college operated in several small buildings on College Avenue Northeast, with our offices in trailers nearby. I have seen a zillion changes, since Sculpture, Photography, Printmaking, Drawing and Painting were all under one department in those first days, and the college now offers separate Bachelor of Fine Arts degrees along with a Master of Fine Arts program."
Rockman was the first woman to be awarded the rank of full professor at KCAD, in 1992. She said there have been interesting changes throughout her tenure with the school.
"I was able, with the support of then-President Oliver Evans, to develop a BFA program in Drawing," Rockman said. "Oliver oversaw Kendall's merger process with Ferris, which served the college well, and has been a great benefit to the University. While I was chair of the Drawing program, I was able to bring Stephen Halko to the faculty, and he now is our chair."
Halko, an associate professor, said it is a difficult task to capsulize Rockman's contributions to their department, and to KCAD.
"She was the first person I researched when I considered joining the faculty," Halko said. "While reading her website, I was struck with the feeling that I knew her. It was as if we'd met before though we never had. Beyond being a committed and passionate advocate for our program and the college, it is the friendship and support we share as colleagues that I cherish the most. She even came to the hospital at 11 p.m. to spend the night with my wife and me until our daughter was born the following afternoon. That is just the kind of person Deb is."
The professor has been featured in more than 100 solo, group and invitational exhibitions throughout the United States and Canada, and her work is included in the permanent collections of Steelcase, Inc., Western Michigan University and the South Bend Regional Museum of Art. Rockman said she will be spending time, in her transition from full-time instruction, to develop a second edition of The Art of Teaching Art, which was first published in November 2000, and a fourth edition of Drawing Essentials, A Complete Guide to Drawing, which was also produced and distributed by Oxford University Press, beginning in 2008.
"I will be an adjunct, teaching a graduate course on art instruction next fall," Rockman said. "The Drawing Essentials text is illustrated with the works of Kendall students and I am looking forward to having the time to focus on producing new editions of both textbooks."
Halko said their department and the college will benefit from Rockman's continued involvement with KCAD students.
"It's just another testament to Deborah's selflessness," Halko said. "She has so much to give. Her years of experience at KCAD, in-depth knowledge of drawing, and personal approach to teaching are assets that will leave a lasting legacy. She literally wrote the book on drawing and teaching art. As she moves into this new phase of her career, she will surely give us more stories to tell."
Provost and Vice President of Academic Affairs Paul Blake said Rockman's tribute is well deserved.
"Deborah is an outstanding choice both as a distinguished teacher and also as the first recipient and representative from KCAD," Blake said. "This award is an excellent culmination of a teaching career that has spanned 37 years and has always been hallmarked by passion for her discipline and passion and compassion for conveying it to students."
KCAD President Leslie Bellavance said Rockman's dedication has been an inspiration, to her colleagues as well as her students.
"Deb is someone who cares deeply about KCAD and the experiences our students have day in and day out. She's ready to ask the hard questions and lend her perspective to conversations surrounding the college and its mission, as well as the value of creativity in the world at-large," said Bellavance. "She builds individuals up and nurtures their growth, and in doing so, she motivates everyone around her to do the same."
Rockman received her honor at the annual Employee Service Awards on April 25 in Ferris' David L. Eisler Center Ballroom.
The above content is from the Ferris News Service.