David Pilgrim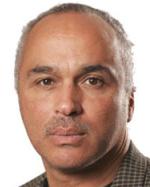 Professor David Pilgrim consistently maintains an open, student-centered classroom environment and remains committed to the success of his students.
As the primary donor and curator of the University's Jim Crow Museum of Racist Memorabilia, Dr. Pilgrim as been widely quoted by such national media outlets as the New York Times, Boston Globe, Los Angeles Times and National Public Radio concerning issues of race and culture. Also, he is beginning work on the Sarah Baartman Room, which will be devoted to understanding historical and contemporary sexism.

In addition to his teaching duties, Pilgrim is a consultant to the Public Museum of Grand Rapids' Ethnic History Exhibit and was recently elected to the Michigan Museums Association's Board of Directors. He has taught at Ferris State since 1990.