Sheila MacEachron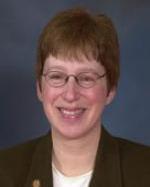 Sheila MacEachron, program coordinator and assistant professor of Nuclear Medicine Technology, earned the Distinguished Teacher Award in 2002. "Sheila is an amazing teacher," one student wrote. "She has a great sense of humor; she is genuine and caring. I have learned more in one semester than in the last three years." Another student wrote, "She is enthusiastic about her job as a professor and I am so thankful to be one of her students."
MacEachron, who was elected to the Nuclear Medicine Technology Certification Board of Directors, has traveled to China to evaluate medical technology there. She was also invited to take part in a summit sponsored by the Department of Labor to help in rewriting national health care standards.
In addition to her work in higher education and with medical technology and health care standards, MacEachron has mentored area high school students conducting research projects.