Greg Gogolin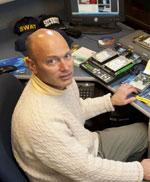 As a member of what he describes as a distinguished team of faculty members in the College of Business, Greg Gogolin was "honored" to be named the 2011 Distinguished Teacher. A professor who has gained notoriety for his work with Ferris' Information Security and Intelligence program, Gogolin experienced a rush of emotion as he learned of the recognition.
"It's humbling to receive this kind of honor. It's especially humbling considering the caliber of professors that I've had the opportunity to work with from the beginning of my career here at Ferris," said Gogolin, who has been employed at Ferris since 1999. "My mother was a finalist two times for the award, several years ago when she was a professor at Ferris, and I know how good she was as a professor. This is a great honor."

Gogolin, who has more than 20 years of industry experience in information systems to his credit, earned his Bachelor of Science degrees in Applied Biology and Computer Information Systems from Ferris in 1987. He earned a Master of Science from Ferris in Computer Information Systems Management in 1991 and a Ph.D. from Michigan State University in 2000 to conclude what he described as 19 years of attending college to discover what he wanted to do in life, professionally.
After spending time strengthening his academic portfolio and later working outside academia, Gogolin felt a tug back to education. In Fall 1999, with the pursuit on for his sixth academic degree, a Ph.D. from MSU, Gogolin returned to Ferris to teach with his Ph.D. pursuit designed to increase his options as a teacher and mentor for students.
Each year, as Gogolin sees classes of students come and go, he finds himself gratified by the relationships that mature and grow stronger as time passes. "I have had students from 43 countries and I tell students that there is no greater compliment than if they send me an email or give me a call after they've left Ferris just to give me an update of what they're up to," he said. "I will get pictures of weddings, pictures of kids ... you name it. I get these pictures and messages from all over the world and it's hard to put into words how much that means. It is amazing to have those kinds of relationships with students."
In addition to being a professor in the College of Business, Gogolin is a licensed private investigator, a certified information systems security professional, a project management professional, a certified EnCase Examiner and a certified handheld examiner.