Pasquale Di Raddo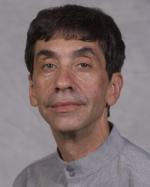 Ever since he was in high school, Pasquale Di Raddo had a keen interest in learning how environmental pollutant chemicals acted in causing birth defects and cancer. His fusion of interests in chemistry and biology led him to undergraduate and doctoral research studies in bio-organic chemistry at McGill University in Montreal, Quebec and then working as a research associate at the University of Chicago's Ben May Institute for Cancer Research.
Pasquale began a second, rich, career as a faculty member at the University of Wisconsin and at Carthage College, a small liberal arts school, where his teaching responsibilities covered the humanities and heritage studies. He arrived at Ferris State in 1994, and has taught courses in general chemistry, organic chemistry and biochemistry. His classes are heavily populated by talented and ambitious pre-professional health science students and he will often use his own academic experiences as examples in his teaching.
Di Raddo is faculty advisor to a number of campus RSO organizations: the pre-optometry, ACS chemistry and pre-medicine clubs, and the Kappa Psi pharmacy fraternity. He is a former recipient of the Douglas Fonner Award for Outstanding Faculty Advisor to the FSU Interfraternity Council (2004), and the Outstanding RSO advisor of the Year (2005). His ACS chemistry student chapter received both Green Chemistry Chapter Recognition and the Outstanding Chapter Award from the American Chemical Society (2006-07). Many of his former students are now successful practicing optometrists, pharmacists, chemists, doctors, nurses and dental hygienists. He has recently published poetry on various chemical themes and an article on the use of comics for the teaching of chemistry laboratory safety, and has been involved in undergraduate student research.