Daniel Adsmond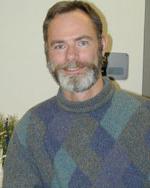 Teaching is in the blood of Daniel Adsmond, an organic chemistry professor at Ferris State University's College of Arts, Sciences and Education, and has been since childhood.
A dedication to education and improving the lives of students are among the reasons Dr. Adsmond was named recipient of Ferris' 2009 Distinguished Teacher Award. A professor at FSU since 1998, Adsmond was honored with the award as the result of the Distinguished Teacher Award Selection Committee's work over the period of a year. Adsmond and other candidates were involved in an exhaustive process that included classroom visitations, student surveys, personal interviews in addition to the evaluation of essays and curriculum.
In the end, Adsmond's name was selected by the committee chaired by Dr. Adnan Dakkuri. "It's a real honor to receive this kind of award and, in many ways, I think it's an affirmation of the positive things I've always felt I've been doing with students I've had the opportunity to work with," said Adsmond, who earned his bachelor's degree from Northern Michigan University and his Ph.D. from the University of Minnesota.
Adsmond's passion for teaching dates back to his youth when he tutored his older sister in geometry. His desire to teach has grown stronger over time. Among the distinguishing characteristics of Adsmond's classes is his use of group work to encourage students to work and learn together in addition to extended use of laboratory time for projects - a staple of the hands-on educational experience Ferris State University has come to be known for since its founding 125 years ago.
"I've always enjoyed teaching," said Adsmond, who was nominated for the Distinguished Teacher Award by former recipient, Mary Murnik, a professor of Biology at Ferris. "One of the things I've always enjoyed about teaching is watching the light bulb turn on in a student's head and you know they get it."
Adsmond's personal desire to strengthen his own educational knowledge base also remains strong. His ongoing research is focused on molecular recognition to learn how and why certain molecules recognize and actively bind to each other. While he enjoys keeping his own knowledge as strong as possible, his true passion remains with the education of his students.
"I love seeing students begin to feel enjoyment in the learning process," Adsmond said.