Brad McCormick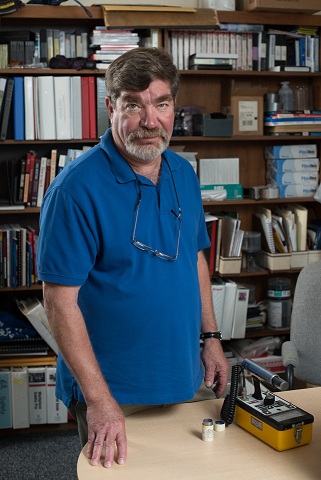 The Distinguished Service Award is conferred upon a faculty member who serves the community through activities such as leadership in departmental, college, and/or university committees, participation in activities that contribute to the well-being of the institution, leadership positions in local, regional, state, national, or international professional organizations, and serving as a mentor to colleagues and students.
The 2013 Distinguished Service Award Committee recommended Brad McCormick as the recipient of this honor. Brad is an Associate Professor in the Environmental Health and Safety Management curriculum as part of the Core Health Sciences in our College of Health Professions.
The award committee stated, "Bradley McCormick is a conscientious, dedicated and active player in the service arena. Brad is an active committee member of his Department and College serving on almost every committee at one time. He has been highly regarded by the College of Health Professionals as the 'safety man' for many years.
The University has found Brad's passion for safety by tapping his skills for many of its most important committees such as Emergency Response Team, Radiation and Chemical Safety and the newly formed Hazardous Substance Awareness and Compliance Committee.
Brad, with his expertise in the area of safety, has given unselfish, dependable and never-ending service to students, faculty, College of Health Professions and the University."
In the nomination letter for Brad, his nominator stated the following:
"Awards of this nature are often awarded for exemplary service to what are often isolated areas and/or populations, i.e. students, faculty, community, etc. The unique feature of Professor McCormick's service is that his work in safety has really served students, faculty, and internal and external community equally. The University is indebted to the safety shield Professor McCormick has helped provide to all of these constituencies."
Brad, we sincerely appreciate your service and contributions, especially in the areas of safety, at Ferris State University and in our community. Congratulations on being chosen as the recipient of the 2013 Distinguished Service Award.