Matt Wagenheim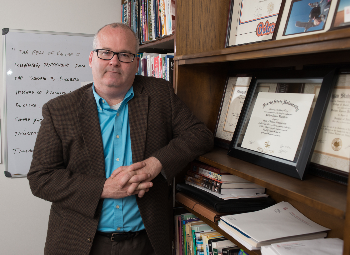 Known for his commitment to his students and dedication in serving his college and the university, Matt Wagenheim, Associate Professor in the School of Education, has been chosen as the 2015 recipient of the Distinguished Service Award.
Wagenheim's leadership has been especially valuable on the Academic Program Review Council (APRC) where as chair he has instituted initiatives that have streamlined the process and saved resources for the university. Nick Kuiper, Assistant Professor in Television and Digital Media Production, applauded Wagenheim in his nomination letter, "Matt works tirelessly to make sure the APRC process works as seamlessly as possible. During my time on the council, I have been struck by Matt's efforts to improve the APRC process and his focus on strengthening programs through recommendations made by the council."
Besides APRC, Wagenheim is the assessment coordinator for the College of Education and Human Services, and serves on the Academic Affairs Assessment Committee, in Academic Senate, and on the Strategic Planning and Resource Council. "Matt takes on these roles with great dedication and offers even-keeled insightful and thorough input and examination," said Glen Okonoski, Associate Professor in Television and Digital Media, in his letter of support for Wagenheim. "Matt demonstrates great leadership qualities through his involvement, and his participation is always appreciated as fellow committee members are confident in his commitment to follow through."
Wagenheim is committed to helping faculty provide the best learning environment possible. "I believe it is important that all courses and programs use clearly defined student learning goals." to do this, he believes in "...continuous quality improvement and data-driven decision making," qualities he used while on the General Education Task Force and in his teaching.
In addition to his service on committees, Wagenheim is a faculty mentor for the Ferris Youth Initiative. The program provides one-on-one support to students who were at one time part of the foster care system. Wagenheim's ultimate satisfaction comes from the "knowledge that my service to the university helps to provide the highest quality education available to students."