Khagendra Thapa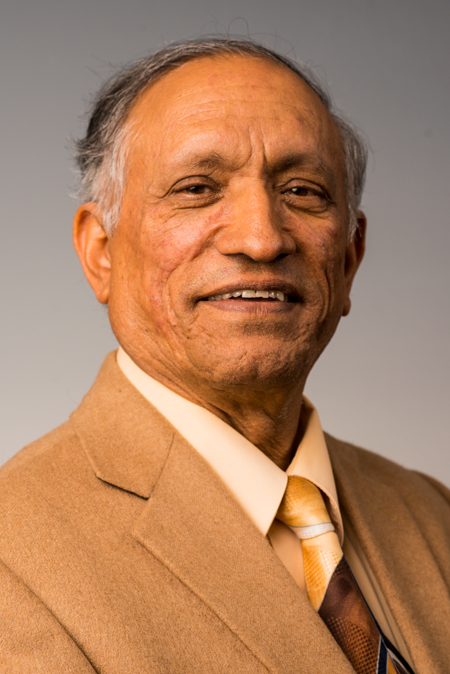 Known for devotion to his discipline, Khagendra Thapa, Professor in the Surveying Engineering program, has been chosen as the recipient of the 2016 Distinguished Service award.
Throughout his career, Thapa has been an advocate for his profession by serving on numerous committees such as the Accreditation Board for Engineering and Technology (ABET) as an evaluator and commissioner and the North American Association of Surveying and Mapping Educators as chair. He has also served as a referee for peer-reviewed journals. Nominator, Louis Nemastil, wrote of Thapa that he has "played an important role in the American Society for Photogrammetry and Remote Sensing" and that he has "served Ferris with distinction."
Thapa has been an advocate for his program at Ferris and has established strong bonds with industry partners as well as proactively recruiting new students. Debbie Dawson, Director of the School of Engineering and Computing Technology, wrote of Thapa, "He also meets with perspective students and their parents, attends recruiting events, and has established solid working relationships with high school counselors around the state." She adds, "He has actively recruited new industry volunteers for the Surveying Engineering Advisory Committee." In addition, he has brought in large donations and gifts for the program, which has provided high-tech equipment and software for student use.
In regards to service to the university, the Distinguished Service Award committee noted that Thapa has "served the FSU community at various levels including Program Coordinator and President of the Academic Senate". He has also provided leadership on various college and university-wide committees.
Thapa's service extends to mentoring others whether it is serving on the tenure committees of new faculty members or providing assistance to surveying students who seek his opinion with classwork. He has been a faculty member of Ferris' Surveying Engineering Department since 1987. Educated in Nepal, United Kingdom, Canada and the United States, Thapa earned five degrees in the four countries, including his master's and doctorate from The Ohio State University.