Jennifer Johnson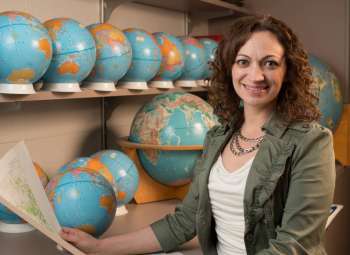 Jennifer Johnson, Professor of Geography in the Department of Social and Behavioral Sciences, has been chosen as the 2018 Distinguished Service Award recipient for her tireless dedication and effective leadership in advancing the work of Ferris State University.
"Dr. Johnson is passionate about making Ferris a better place," Social Work Program Director and Department Chair, Wendy Samuels, said. "It is the quality of her service, as well as her teaching, [that] places her in the top 1% of faculty at this university."
"Her service to students is extraordinary, always going the extra mile so that students can achieve their greatest potential," continued Samuels. "Johnson shows impeccable leadership skills among her students and peers, repeatedly demonstrating a desire to improve the lives of her students and colleagues at both the local and national level."
"Service simply feels like the right thing to do," Johnson said. "I want, above all else, to be the best teacher that I can be." Johnson is known for her deep commitment to her students both inside and outside of her classroom. "She frequently goes above and beyond her duties because of her desire to see students and this institution succeed," Geography Adjunct Instructor Austin Stanforth said. "… she more than appropriately encompasses the W. N. Ferris quote, 'I have come here to help you… if you let me.'"
"I value the opportunity to have a voice in things that affect me, my colleagues, and our students," Johnson said. University-wide service has included work on the Strategic Plan Steering Committee, Student Life Committee, and Honors Curriculum Committee, as well as with many other committees. Through her advocacy on the Presidential Task Force for Sustainability and the University Sustainability Committee, the development of a robust recycling program on campus is now a reality. For her college, she co-chaired the CAS Dean search, and for five years, chaired the College Planning Committee where she advanced a full revision of the college bylaws. Johnson also currently serves as an Academic Senator.
Generously volunteering her time with local and regional science and geography competitions, Johnson also advises and mentors Ferris students interested in pursuing a career in the Geography field. She works with them in doing independent research, obtaining research grants, and bringing them to professional meetings so they can present their work. For the last five years, she has served as the Faculty Advisor and nationally appointed Chapter Counselor for the Sigma Phi Epsilon Fraternity on campus. She is proud to continue in this role.
Johnson earned a PhD in Physical Geography with a specialization in Climatology and an MA in Physical Geography, both from Arizona State University, as well as a BA in Geography and Mathematics from Carthage College, Wisconsin.
Johnson and other recipients of the 2018 Academic Affairs Awards were recognized on Wednesday, April 25, 2018, at the Employee Service Awards in the David L. Eisler Center.