Mary Bacon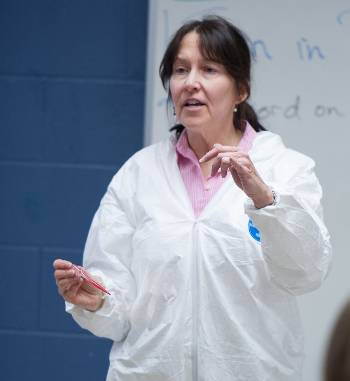 The Adjunct Teaching Excellence Award recognizes an non-tenure track member of the Ferris faculty who has demonstrated excellence in teaching and learning as evidenced by such things as students' ratings of instruction, development of innovative teaching and learning strategies, devotion to the quality of students' learning experiences, high scholarly standards, and evidence of creativity in instructional approach.
Mary Bacon, a professor in the Department of Physical Sciences in the College of Arts, Sciences and Education since 1990, has been named the recipient of the 2015 Non-Tenure Track Teaching Excellence Award Described in her nomination letter as being 100% dedicated to her students and having an outstanding work ethic, Bacon is known for her use of new technology, creative learning strategies, and being both an exceptional teacher and excellent advisor.
The Non-Tenure Track Teaching Excellence award committee said, "While we found that each nominee was quite impressive in their own right, Professor Bacon's long record of teaching excellence, research and professional endeavors, and service outside the classroom were significant factors in reaching this outcome."
Bacon described her pedagogy as "student-centered, active learning." Her teaching style resonates positively with students. "Her passion for wanting her students to succeed is outstanding," wrote student Katie Cline. "She wants every one of her students she works with to excel in every subject she teaches. I believe she is one of the best teachers I have had while attending Ferris State University."
In addition to teaching, Bacon is the faculty advisor and chapter key advisor to the Phi Sigma Sigma sorority. She works with the chapter to promote good scholarship, understanding of college and university policies and procedures, and a positive image of Phi Sigma Sigma to students, colleagues, and the wider university community. bacon also served for nine years as the advisor to the Panhellenic Council, which is comprised of all the campus social sororities. Bacon maintains an active research program in forensic science, particularly questioned document analysis. She regularly involved students in her research and has presented at numerous national and international conferences.