Christian Peterson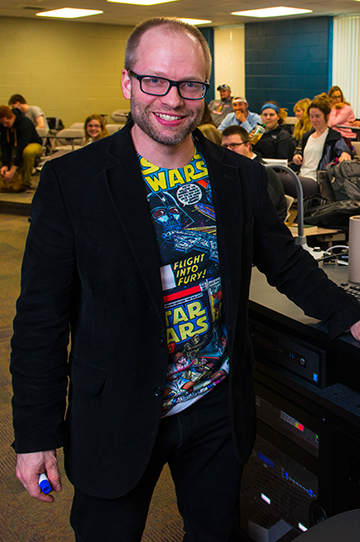 The Non-Tenure Track Teaching Excellence Award recognizes non-tenure track faculty members who exhibit exceptional teaching. Christian Peterson, a professor in the Humanities department in the College of Arts, Sciences and Education since 2010 has been selected as the recipient for the 2016 award.
Nominator Tracy Busch wrote about Peterson, "Christian is both an accomplished scholar and a hard-working and talented instructor." She continues, "Many students find him to be one of the most demanding, hard-working, and inspiring professors at Ferris." One student wrote that Peterson is "extremely passionate about what he does, and he cares about the student's success."
The Non-Tenure Track Teaching Excellence Award committee provided these comments: "Dr. Peterson's impressive commitment to his students both inside and outside of the traditional classroom environment is evident in the glowing praise that he receives from students and colleagues alike. His consistently high IDEA scores from student evaluations and frequent Skype sessions with his students outside of class are demonstrative of truly inspired teaching."
Peterson writes that he believes history instructors "have a duty to utilize up-to-date scholarship in ways that help students acquire the knowledge base and analytical tools necessary to function as responsible and well-informed global citizens." To stay current, Peterson pursues professional development and ways to increase his knowledge base. The Award Committee wrote, "Furthermore, [Patterson's] initiative to obtain NEH grant funding to create a summer institute for high school educators here at Ferris as well as his impressive publication record show true passion and dedication to the pursuit of knowledge."
In regards to scholarship, Peterson has published two books and numerous journal articles, presents at conferences, reviews books for scholarly journals, and hosts a podcast on World Affairs. He was one of three Americans selected to present a paper in Paris on the Helsinki Accords.
Peterson earned a doctoral degree in history from Ohio University, a master's degree in history from Utah State University, and a bachelor's degree in history from Yale University.