Robert Quist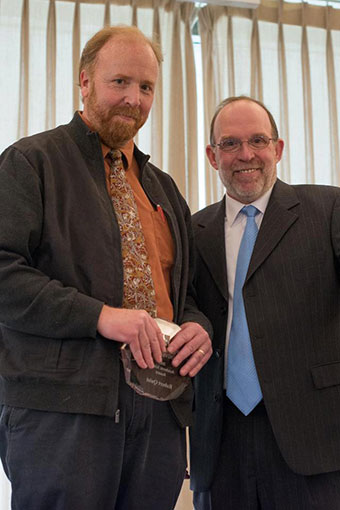 Robert Quist's published history and his record of research are among the many reasons he was named the winner of the 2013 Academic Scholar Award as presented by Ferris State University's Academic Affairs division.
Quist, who has served as an assistant professor of Humanities since fall 2002, was nominated for the award by James Hoerter, a professor of Biology. Most notable in his nomination of Quist for the 2013 Academic Scholar Award was his published book, The History of Modern Swedish Music: An Introduction to Nineteen Composers. Hoerter described the work as "truly a scholarly work of the highest degree. This book was the culmination of three years of very meticulous and dedicated work and study."
"I believe that Dr. Robert Quist's book that he wrote on modern Swedish music brought obscure but very noteworthy composers to a larger awareness and appreciation," Hoerter said. "His book has helped many musicians to discover these composers, their music and talent for the first time.
Hoerter noted that Quist's book is comprised of four major sections – late romantic music, early modern composers, Avante Garde Monday Group and late modernism. Each of the sections contains three chapters. The book has made a major contribution to the field and has brought out of obscurity many Swedish composers, giving attention and recognition to their works for the first time. His book has been added to more than 60 library collections around the world, including Sweden, United States, Germany, Switzerland, England, Canada and New Zealand.
"I have read a good portion of the book, and I am very impressed. It appears more like a work that would be the culmination of a career rather than the beginning of one," said Randy Groves, a professor of Humanities. "It is a very learned and sophisticated treatment of contemporary Swedish classical music that makes use of sources in several languages including, of course, Swedish."
Strengthening the cycle of quality research is important to Quist. "Scholarly research is one of the most rewarding and intense experiences. Research is comparable to assembling the greatest minds both living and dead and engaging them in a dialogue," he said. "It is a kind of journey both in time and space. The researcher can read what was written thousands of years ago on a given subject and then presenting the ideas in a new framework. Research is the best form of self-absorption because the scholar absorbs others as well. And when the final products pass the gauntlet of peer reviews and publication requirements, the researcher joins the pool of sources that future researchers will use."
In addition to the book, Hoerter noted that Quist has used the knowledge gained from his research to improve his own instruction. "Dr. Quist is always seeking new and more efficient and effective teaching practices to improve the quality of his courses," Hoerter said. "He looks for way to engage the students and to help them discover connections and make applications to their major field of study."