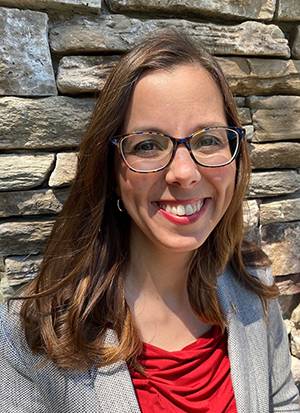 Mandy R. Seiferlein, M.P.A.
Mandy Seiferlein has been appointed to serve as Interim Associate Provost of Assessment and Accreditation effective November 26, 2018.

During the interim appointment, she will focus on 1) building a team-based approach to assessment throughout Academic Affairs, 2) providing additional support and leadership for the HLC reaffirmation process, and 3) directing solutions for assessment-related gaps. As time allows, she will work from her Grand Rapids-based office in reduced responsibilities as the College of Pharmacy Director of Assessment and Accreditation.
An experienced member of the College of Pharmacy leadership team, Seiferlein has expertise in curricular and programmatic assessment, accreditation report writing, curriculum development, and faculty and staff professional development. Since 2002, she has served in various roles in the College of Pharmacy. She currently serves as Director of Assessment and Accreditation, during where she has led the development of a comprehensive approach to curricular and programmatic assessment that embodies continuous quality improvement and honors the College's commitment to shared governance.

Seiferlein is an active member of the College's Executive Council and has been instrumental in reaffirmation of the PharmD specialized accreditation status. Prior to her current role, she served as Director of External Clinical Operations (2005-2015) with responsibilities for the development and implementation of policies and procedures for health and safety requirements in the PharmD program; execution and maintenance of affiliation agreements with clinical sites; and administration of the adjunct clinical site budget.
Seiferlein has also worked extensively with the Academic Affairs Assessment Committee and has led the efforts of the College of Pharmacy's Quality Initiative (QI) projects, as well as worked collaboratively across the University with its QI projects. She is a member of the HLC Steering Committee and also serves as a Criterion Co-chair. We welcome Seiferlein's assessment expertise and her penchant for collaboration and team work.
Seiferlein will complete a PhD in Higher Education Leadership from Western Michigan University, College of Education and Human Development, in 2019. She holds a Master of Public Administration in Health Care Administration and a Bachelor of Business Administration, both from Western Michigan University.