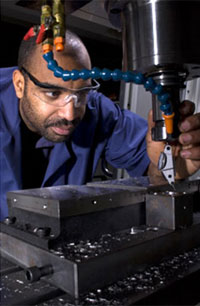 Because nearly every manufacturing industry requires skilled professionals with a solid foundation in manufacturing processing and tooling operations, graduates of the Manufacturing Technology program are in high demand and have an array of options to choose from upon graduation.
The Manufacturing Technology degree is designed to prepare students to enter industry directly. Many of the career opportunities include: tooling operations, machining operations, manufacturing and engineering operations, computer programming operations, CNC operations, and general manufacturing applications. The program provides students with laboratory projects, career based education, and specific industrial skill sets.
With additional experience and/or education, graduates can move into occupations such as Process Engineer, Tooling Engineer, Manufacturing Engineer, Project Engineer, and Technical Instructor, as well as, all levels of management. Graduates, who decide to continue their education can stay at Ferris and, within two additional years, earn a bachelor's degree in one of many related programs.