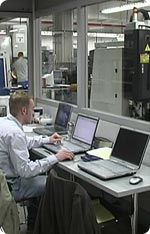 The Manufacturing Engineering Technology program prepares you in the development, design, analysis, planning, supervision and construction of methods and equipment for the production of industrial and consumer goods.
You may apply to transfer into the program at junior status if you have completed Ferris associate degree program in Mechanical Engineering Technology, Manufacturing Tooling Technology, CAD Drafting/Tool Design, Plastics Technology, Welding Technology, an equivalent A.A.S. degree from another institution or 57 semester hours of college coursework encompassing specific general education. Students desiring entry as Freshman will be assigned a customized 0-4 track.
Employment opportunities at the entry level include manufacturing engineer, process engineer, production engineer, tool engineer, quality engineer or industrial engineer content and a technical core.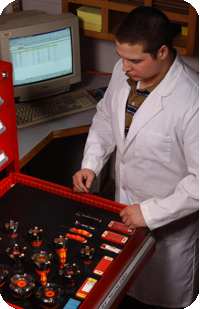 Manufacturing Technology is a single source, single path curriculum that provides students multiple aspects of exposure for both the design technology and the build phase of manufactured components and systems.
The Manufacturing Technology Program is an approach that allows student to develop an idea, visualize a concept, incorporate technical components, develop manufacturing processes, program computer systems for machine tools, utilize high tech Computer Aided Design software and Computerized Machining Technology. The Manufacturing Technology Program providers students the opportunity, knowledge, and confidence to design and build real ideas from start to finish.
The Manufacturing Technology program provides the technical foundation required to be successful in today's modern manufacturing field.