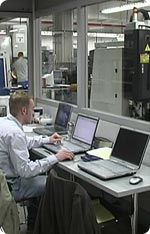 The Manufacturing Engineering Technology program prepares you in the development, design, analysis, planning, supervision and construction of methods and equipment for the production of industrial and consumer goods.
You may apply to transfer into the program at junior status if you have completed Ferris associate degree program in Mechanical Engineering Technology, Manufacturing Tooling Technology, CAD Drafting/Tool Design, Plastics Technology, Welding Technology, an equivalent A.A.S. degree from another institution or 57 semester hours of college coursework encompassing specific general education. Students desiring entry as Freshman will be assigned a customized 0-4 track.
Employment opportunities at the entry level include manufacturing engineer, process engineer, production engineer, tool engineer, quality engineer or industrial engineer content and a technical core.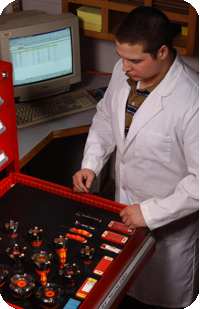 The Manufacturing Technology program is the only manufacturing technology program in Michigan and one of a few in the country that offers two individual career pathway concentrations. Prospective students have a choice of Manufacturing Processing Technology, or Manufacturing Tooling Technology.
You will develop a solid technical foundation through the application of processing technology and tooling operations. You will learn to apply relevant calculations, work in a parametric environment, utilize precision metrology equipment, plan machining processes, specify tooling, equipment requirements, interpret CAD data, and utilize manual and CNC machining equipment. Two CNC courses take you through 2-D manual G-code programming, 2-D and 3-D programming, and 3-D CAD/CAM programming.
All courses feature project-based learning in well-equipped facilities. Lab time alone accumulates to nearly 1,000 hours of applied experience. Course projects focus on manufacturing processing, problem solving and take you through the costing, designing, building, setup, tryout and troubleshooting of manufacturing processes and tooling operations.
This program provides an excellent foundation for any manufacturing-related career. Graduates often use it as a stepping stone to a related bachelor's degree program.