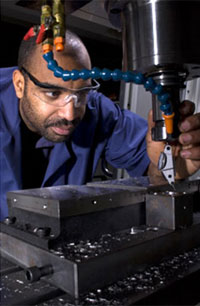 Upon completion of MFTE-AAS program, students shall have the ability to:

Apply modeling software to design and detail components and assemblies.
Apply machining technology to manufacture components and assemblies.
Utilize CNC technology to automate the manufacturing of components and assemblies.
Utilize measurement systems to validate quality of manufactured components and assemblies.
Complete a project that integrates design modeling, machining, CNC, and measurement technology in an economical and robust manufacturing process.
Five Main Components of the Manufacturing Technology degree:
Design Component
Build & Manufacturing Component
CNC Technology Component
Metrology and Inspection Component
Economic Component
Students who are enrolled in the Manufacturing Technology program learn to apply relevant calculations, work in a parametric environment, design components for manufacturing operations, utilize precision metrology equipment, plan machining processes, specify tooling and equipment requirements, interpret CAD data, and utilize manual and CNC machining equipment. Two CNC courses take you through 2-D manual G-code programming, 2-D and 3-D programming and 3-D CAD/CAM programming.
All major courses feature project-based learning in well-equipped facilities. Lab and Lecture time accumulates to nearly 800 hours of applied experience. Course projects focus on component design, manufacturing process, component manufacturing, part setup, manufacturing processes and tooling operations.
The program provides an excellent foundation for any design and manufacturing-related career. Graduates often use it as a steppingstone to a related bachelor s degree program.
Prepare for a Great Career
Because nearly every manufacturing industry requires skilled professionals with a solid foundation in designing and manufacturing operations, graduates of the Manufacturing Technology program are in high demand and have an array of options upon graduation.
The Manufacturing Technology degree is designed to prepare students to enter industry directly. Many of the carrier opportunities include tooling design, machining operations, manufacturing and engineering operations, computer programming operations, CNC operations, and general manufacturing applications. The program provides students with laboratory projects, career-based education, and specific industrial skill sets.
With additional experience and/or education, graduates can move into occupations such as a Design Engineer, Tooling Engineer, Manufacturing Engineer, Project Engineer, and Technical Instructor, as well as all levels of management. Graduates, who decide to continue their education can stay at Ferris and, within two additional years, earn a bachelor's degree in one of many related programs.
Admission Requirements
New Student Admission Requirements
2.75 High School GPA (on a 4.00 scale) (2.50 -2.74 with college approval)

Minimum Composite Score of ACT 18/SAT 950, Math Score of ACT 19/SAT 500

Placement into MATH 115
Transfer Student Admission Requirements
2.50 College GPA (on a 4.00 scale)

Placement into MATH 115

Placement into ENGL 150
Graduation Requirements
The Manufacturing Technology program at Ferris leads to an associate in applied science degree. Graduation requires a minimum 2.0 GPA in the major and overall. Students must complete all general education requirements as outlined on the General Education website.
---
More Information
College of Technology
Ferris State University
1009 Campus Drive
Big Rapids, MI 49307-2280
Phone: 231-591-2890