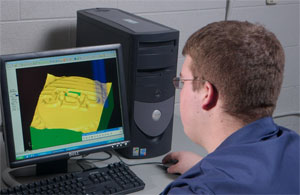 The Mechanical Engineering Technology program prepares you for a broad range of occupations and challenges. Beginning with foundation courses in math, applied science, CAD, manufacturing processes and communication, you then move on to the applied engineering courses that give you a solid technical background for future careers. You have the option of getting a two-year Associate in Applied Science or a four-year Bachelor of Science in Mechanical Engineering Technology.
Preparation for this program should include high school math through algebra II and trigonometry. Additional math is encouraged. High school courses in chemistry and physics are highly recommended. Technical coursework, such as CAD/drafting, shop, electronics and automotive is also encouraged. Applied engineering with hands-on labs play an important role in the learning experience.
You will develop strong analytic and problem-solving skills. An understanding of the principles taught in the classroom is enhanced with many hands-on labs and real-world applications provided by faculty with extensive industrial experience.
Most graduates of the Associate in Applied Sciences for Mechanical Engineering Technology continue their education to pursue a Bachelor's degree in Mechanical Engineering Technology, Product Design Engineering Technology or Manufacturing Engineering Technology. Since the credits earned will transfer directly into many Bachelor programs, some students choose business, technical education, or other technical disciplines.
As a graduate of the Bachelor's program, you will find a great variety of jobs open to you. Opportunities are available in the design and development of products, machines and processes, while others are in manufacturing, operations and technical sales. Areas of employment include power generation, climate control, manufacturing, automation, machine design, materials, and automotive and transportation.
Ferris students are also invited to become part of a team (such as the Human Powered Vehicle Team). Teams have a great time designing their competitive products, building long-lasting friendships, and learning important skills for the future. Also, it looks great on resumes! Employers are seriously interested in what affiliations students belong to outside the classroom.
Both the Associate and Bachelor's degree of Mechanical Engineering Technology programs are accredited by the Engineering Technology Accreditation Commission of ABET
www.ABET.org