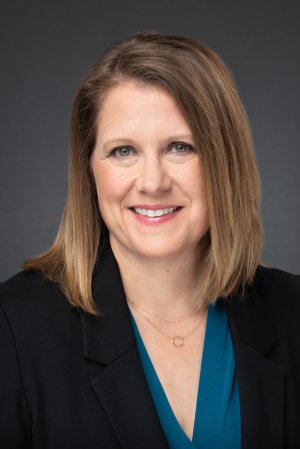 Executive Director of Research, Planning and Assessment
Dean's Office
Phone: (231) 591-2502
Email: [email protected]

Education
EdD, Ferris State University, Doctorate in Community College Leadership
MM, Aquinas College, Master of Management
BA, Michigan State University, Communication
Biography
Beginning my professional life focused on marketing and public relations, with an underlying interest in research, has led me to a position that centers on researching potential markets, strategic planning, and assessment of impact. Along the way, I have developed specialized skills in data gathering and analysis, strategic planning, and analytical thinking. From my roots in marketing where I was involved in the development of marketing material, advertising placement, and social media strategy, I continue to be involved in several website strategy and development projects.

Positions held before joining Ferris were in the nonprofit sector and included serving as a development associate for the Heart of West Michigan United Way and executive director of the Mecosta County Area Chamber of Commerce.

In February 2017, I was appointed the Project Manager for the institution's HLC Quality Initiatives that were launched in January 2017. This role is in addition to my position as Executive Director of Research, Planning, and Assessment in the Office of Extended and International Operations (EIO).

A particular area of interest is using evidence in the planning process, which has blossomed into a growing curiosity and exploration of student learning assessment. In addition to previous research on the topic of the use of assessment data, my doctoral dissertation research focused on the role that higher education administrators have in supporting faculty development and the use of evidence of student learning.
Publications and Intellectual Contributions
Abstract
Hegenauer, J. D. (2017). "Exploring Factors That Influence Assessment of Student Learning," Leadership Abstracts. 30 (9). Chandler, Arizona: League for Innovation in the Community College. http://www.league.org
Newsletter
Hegenauer, J. D. (2017). "Forces that Influence the Adoption of Assessment Processes," Perspectives: Community College Leadership for the 21st Century. (Sept 2017). p. 2. Big Rapids, MI: Alliance for Community College Excellence in Practice. https://ferris.edu/ccleadership/alliance/documents/Perspectives-September-2017-final.pdf
Monograph
Andrews-Bingham, K., Asbury, K., Countryman, T., Douglas, T., Hegenauer, J. D., Samuel, S., Sipe, B. (2016). "Guided Pathways: Improving Completion and Showing Students the Way to Success," In J. D. Hegenauer (Ed.), S. Samuel (Ed.), At Issue. 6 (1). Big Rapids, MI: Ferris State University, Doctorate in Community College Leadership. http://www.ferris.edu/ccleadership/alliance/documents/AtIssue-2016_GuidedPathways.pdf
Presentations
Oral Presentation
Hegenauer, J. D. (Panelist), 2020 Lean HE Global Festival, "LHE 2020: Developing and Assessing Student Team Experiential Lean Projects," Lean HE, Virtual, (October 20, 2020).
Workshop
Hegenauer, J. D., Ferris Employee Leadership Development Program, "HLC and Quality Initiatives Overview," Ferris State University, Center for Staff Training and Development, Big Rapids, MI, (April 12, 2018).
Oral Presentation
Seiferlein, M. R., Gibbs, L., Hegenauer, J. D., Assessment Institute in Indianapolis, "Developing an HLC Quality Initiative: A Decentralized Approach," Indiana University-Purdue University Indianapolis, Indianapolis, Indiana, (October 24, 2017).