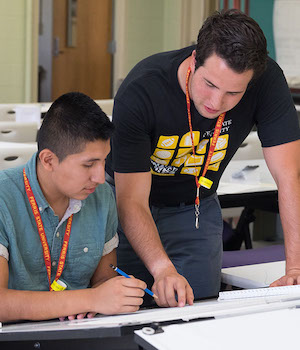 Operational Definition
Collaboration occurs when students participate in a cooperative endeavor that involves common goals, coordinated efforts, and outcomes or products for which they and their teammates share responsibility and credit.
Hallmark of a Bulldog
Ferris graduates skillfully and productively work with others.
Relevance
With increasing numbers of collaborative projects, both face-to-face and online, leadership and teamwork are important skills in today's complex workplace.
Ferris Learning Outcomes
The observable activities or abilities that will be evaluated as evidence of student learning for this Core Competency are described below. The icons to the left of each outcome are linked to holistic scoring rubrics. A complete matrix of all 40 scoring rubrics is available on this page.
| | |
| --- | --- |
| | COL1: Individual Contribution – Students completes all assigned tasks by their deadlines in a thorough and comprehensive manner that advances the overall project aims. |
| | COL2: Facilitate Others – Students engages team members in ways that facilitate their contributions to meetings by both constructively building upon or synthesizing the contributions of others as well as noticing when someone is not participating and inviting them to engage. |
| | COL3: Foster Team Environment – Students support a constructive team environment through appropriate communication, positive vocal and written tone and body language. |
| | COL4: Conflict Resolution – Students address conflict directly and constructively, helping to manage/resolve it in a way that strengthens overall team cohesiveness and future effectiveness. |