Although OER are often described as "free textbooks", they are much more than free. OER materials are free and also give permission to:
copy
mix
share
keep
edit
use
Equity – all students, regardless of income, can use the materials without barriers
Access - from the first day of class; no need to wait for financial aid or decide between textbooks or rent
Customization – you can adapt OER resources to suit your needs
Most OER are peer-reviewed and high quality. The largest, high-quality libraries for OER are:
OpenStax

OpenStax mission is to create free and open peer-reviewed textbooks for the 25 most highly-populated higher education classes
Textbooks have been written through grant money at Rice University.
OpenStax now has 16% market share in these classes.
Some OpenStax textbooks are in second editions.
If sections don't work for you, they can be adapted and rewritten.
Please contact librarians Kristy Motz Stacy Anderson, or David Scott, or instructional designer Andrew Peterson for more information about finding OER textbooks and other materials in your field
OpenStax textbooks are available for free online.
Open Stax also provides a true hard cover version of the text for between $15 - $50 per book.
Many other OER textbooks provide a print version as well.
Students could print off the entire textbook in pdf and have it bound at Copy Center for about $10.
Students can also download and print off just the portions of the text they need, not the entire book.
According to the Babson Survey Research Group OER Survey, published in January 2019:
Open Educational Resources (OER) have made significant gains in awareness and adoption over the last year.
Faculty awareness continues to rise, with 46% percent of faculty now aware of OER, up from 34% three years ago.
The percent of faculty who use OER as a required course material in at least one course has more than doubled to 13% this year, up from 6% last year.
More than a fifth (22%) of faculty who teach introductory courses use OER as a required material in at least one course.
Of the faculty who do not use OER, nearly three-quarters (74%) were open to considering it.
Nearly three-quarters (73%) of department chairpersons and most (61%) of all faculty "Agree" or "Strongly Agree" that the cost of course materials is a serious problem for their students.
For the first time, more faculty expressed a preference for digital course materials (40%) than print (25%).
The majority of faculty report making changes to their textbooks, most commonly presenting material in a different order (70%), skipping sections (68%), and replacing content with their own (45%)
The OER Starter Kit is a handbook intended for faculty and staff interested in the use and creation of open OER. The book is broken up into five sections: Getting Started, Copyright, Finding OER, Teaching with OER, and Creating OER. Each chapter is accompanied with learning objectives and most chapters feature interactive quizzes and other opportunities for readers to engage with the text. The content is appropriate for those who are completely new to OER and those with a more advanced understanding of the topic. Although some examples provided in the text are specific to Iowa State University, these examples are limited and the text can be used by instructors at any institution.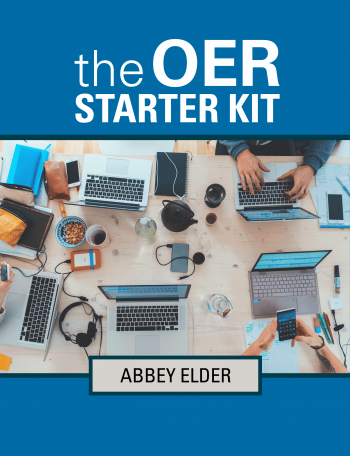 For more information about OER at Ferris, please contact Kristy Motz, Stacy Anderson, Andrew Peterson, or David Scott.
Contact
General Education Director
820 Campus Drive,
ASC 2011,
Big Rapids, MI 49307
(231) 591-2823
[email protected]