Artist: Robert L. Barnum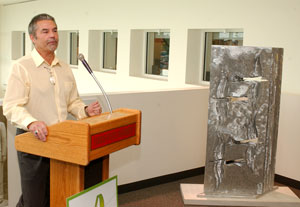 "Journey" is a two-part sculpture in the atrium of the Timme Center for Student Services.
"The two-piece 'Journey' sculpture is rather subtle in content," said creator Robert Barnum, Ferris artist-in-residence. "All art in the Michigan Art Walk must relate to site by physical space requirements and by area academic content or philosophy. In this particular case, most students or others who enter the Timme Center are on a business agenda.
"These visitors or building users are not in an academic environment that would suggest a contemplative atmosphere," noted Barnum. 'Journey' is a piece of art one might discover as much by accident as by deliberate effort. The art simply suggests that we are in a constant state of evolving or moving on."
Both pieces are built out of aluminum. The main hanging sculpture consists of approximately 130 cut and bent bird-like figures. The second sculpture is a floor-mounted negative shape version of the first, weighing about 500 pounds and including a limestone base.