Artist: James F. Hopfensperger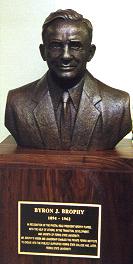 A bronze sculpture honoring the memory of Ferris State President Emeritus Byron J. Brophy is on display in the Timme Library. The piece is part of the Ferris State University's Michigan Art Walk.
The sculpture was donated by alumni and Presidents Club charter members George and Suanne Rapanos of Florida. Mr. Rapanos, a Ferris Pharmacy graduate, wrote the tribute to Brophy that appears on a plaque affixed to the walnut base of the sculpture.
Brophy was President of Ferris Institute from July 10, 1946 to early in 1952 when health problems forced his resignation.
During his tenure, Ferris Institute saw a tenfold increase in enrollment, became a public institution, and survived a devastating fire. Though often chided for his parsimonious methods of saving money, Brophy doggedly insisted on using low-wattage light bulbs and on turning down the heat at night and over weekends. His example resulted in fiscal stability for an institution that had been plagued by debt.
Shortly before his death in 1962, a residence hall was named for Brophy in recognition of his spearheading the campaign to transfer ownership of the institution to the State of Michigan. That campaign ensured the financial future of Ferris State College.
Robert Barnum, associate professor of Humanities, recommended the father-daughter team of James F. Hopfensperger and Joan Hopfensperger-Most to produce the Brophy Sculpture. They are the proprietors of Hopfensperger Stained Glass and Sculpture Studios in Midland. The piece is on display in the Ferris Library for Information, Technology and Education.
The day after the Feb. 21, 1950 fire that all but destroyed Ferris, Brophy placed a sign outside the Alumni Building that stated, "Ferris Institute will go on." Now cast in bronze, Byron J. Brophy's legacy, too, will go on.