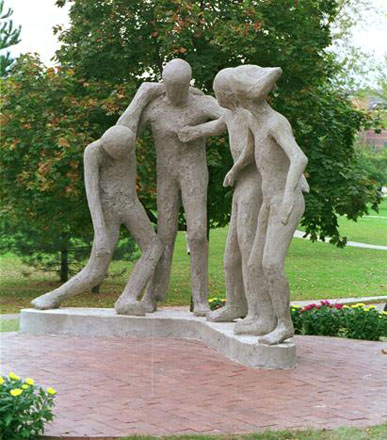 Artist: Ronald Farrington Sharp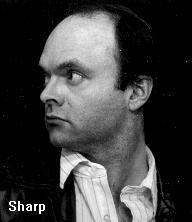 "Escape," a piece of original artwork installed as part of the Michigan Art Walk, was created by award-wining sculptor R. Farrington Sharp of Dexter, Michigan. Sharp's honors include repeated recognition from national sculpture competitions. His work has been commissioned by the Frank Lloyd Wright Museum in Ann Arbor, Yale University-Bechton Engineering Library, the University of Central Florida, and the University of Wisconsin.
Sharp's interest in art dates back to his early childhood when he carved figures from bars of Ivory soap. "When my Dad was repairing a window, I used the putty as clay. All I wanted for my 16th birthday was a 50-pound bag of dry clay. And I got it. I can remember baking this huge clay head in my mother's oven," he said.
Sharp states that although he enjoys abstract art, he prefers to work with figures.
"People recognize images more readily than abstracts. I can be more expressive with a figure," he said. "I do strictly portrait and figurative work in a variety of mediums, including bronze, steel, plastics, clay, cast and formed concrete, and cast stone. A sculptor has to be a good carpenter; I work with metal, electricity, welding, even ceramic tiles. A lot of it is self-taught. I have done quite a bit of figurative relief which is my favorite type of sculpture and I think the most exacting."
Despite his early artistic ambitions, Sharp tried a number of occupations before becoming a full-time artist. He worked in a factory, then went back to school and received degrees in business and law, and worked as an attorney for a few years.
"Ultimately I came to my senses and went back to art. I need to be free to create. I actually get depressed if I don't work with clay for a period of time. Being an artist means you have to do it; it's not a choice - it's a requirement for living."