Artist: Mark Chatterley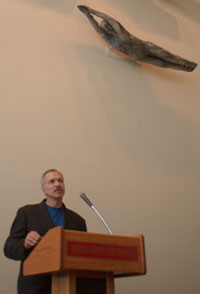 Sculptor Mark Chatterley's "Journey to the Body Collective" expresses the eternal quest for higher knowledge and loftier ideas, which can be pursued within a group or individually. The figures in "Journey" are all heading upward in a group but in a self-contained state.
"Quantum physics explains the world around us," said Chatterley. "Some of the same principles are used in this piece – repetitions of form, the interconnectedness of objects to each other, the wave and string theory on how we move through space.
"I relate to the world from the perspective of my own size. As the early Greeks noted, man is the measure of all things. So human proportions are used."
Chatterley has been the recipient of numerous national and international awards, most recently capturing the Silver Purchase Award at The Sixth Taiwan Golden Ceramics Awards in Taipei, Taiwan, and the Award of Distinction at Art Festival Bath-El in St. Petersburg, Florida. His exhibitions have appeared throughout Michigan and the United States, as well as in Taiwan, New Zealand and Korea.
The artist holds a Master of Fine Arts degree from Michigan State University. He resides in Williamston, Michigan. -- Oct. 29, 2002