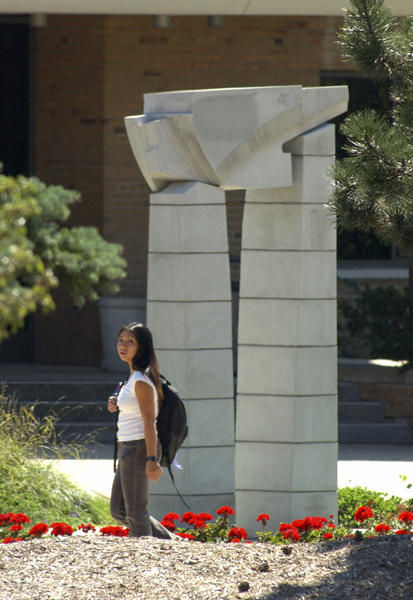 Artist: Kenneth M. Thompson
Michigan sculptor Kenneth M. Thompson's "Ferris Arch" was added to the Michigan Art Walk on Oct. 19, 2001 outside the Rankin Student Center.
Thompson holds a bachelor of fine arts degree from Siena Heights College and a master of liberal studies in sculpture from the University of Toledo. He has been making sculpture for more than 25 years out of his car dealership turned studio in Blissfield, Mich.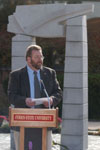 Thompson has received a variety of awards and honors in national and international exhibitions, including a Purchase Award from the South Bend Regional Museum of Art in 2000.
"Ferris Arch" is one of a series of archways that include "Reclamation Archway" done for Blue Cross/Blue Shield in Detroit and "Peace Arch" for the City of Toledo in honor of Vietnam War veterans. According to Thompson, the arch's two stacked limestone columns and limestone lintel arch has "a monumental solitude that conveys strength and peace."
Thompson cited Stonehenge as one of the inspirations for the series. "I admire the effort it must have taken, as well as the engineering. Some of those stones weigh 10 tons," he said.
"I also chose the image of the arch, a symbolically strong structure, because it denotes a doorway, passage or portal, which metaphorically could provide the students of Ferris State University with the entry to a 'new beginning,'" he added.
"Ferris Arch" joins the rest of the Michigan Art Walk as part of the Ferris Renaissance, a 20-year vision for aesthetically improving the University campus.